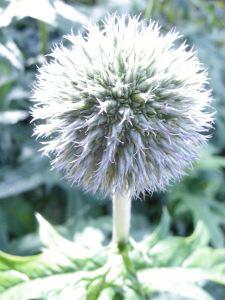 Echinops ritro detail (21/05/2011, London)
Position: Flourishes in full sun to partial shade.
Soil: moist and well drained.
Flowering period: Early to mid summer.
Eventual Height: 100cm
Eventual Spread: 40cm
Hardiness: USDA Zone 3a-9b
Family: Asteraceae
Echinops ritro is a deciduous perennial with a compact, clump forming habit. It has oblong-elliptic, pinnatifid to pinnatisect, stiff, spiny, dark green leaves that are cobwebby above and white downy below. Its flowers are spherical and metallic blue before the florets open, where they will mature to a brighter blue.
E. ritro, commonly known as the Globe Thistle or Blue Hedgehog, is native to southern Europe and was introduced to England in 1570, becoming a popular plant in Victorian garden during the 19th century.
Echinops is derived from Greek echinos meaning 'a hedgehog' and opsis meaning 'like' in reference to the form of the flowers, with ritro being possibly derived from an old name for a plant with thorns in central to southern Europe.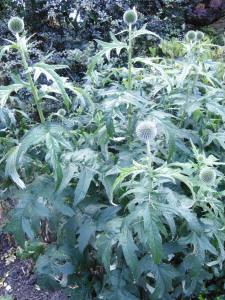 Echinops ritro (21/05/2011, London)
The landscape architect may find this plant usefull for its bold architectural form. It is usefull when designing a wildlife garde as it attracts many types of butterfly and moth.
This plant will tolerate many soil conditions; it will be happy in acid, neutral or alkaline pH levels, in loam, sand, or chalk based soils and will prefer an exposed location facing any aspect except north.
Ecologically this plant will attract a wide variety of pollinating insects including bees, moths and butterflies. Thee seeds provide food for finches and other seed eating birds.
The Royal Horticultural Society have given it their prestigious Award of Garden Merit.
Maintenance: Requires little to no care; the flowers may be deadheaded to prevent self-seeding. Clumps may be divided from September to may.