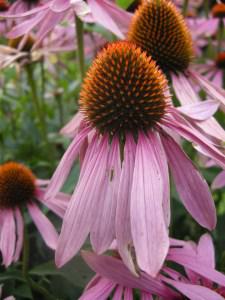 Echinacea purpurea flower (28/07/2011, London)
Position: Full sun to partial shade
Soil: well drained soil
Flowering period: Summer and autumn
Eventual Height: 1.5m
Eventual Spread: 50cm
Hardiness: USDA Zone 2a-10b
Family: Asteraceae
 Echinacea Purpurea is a deciduous perennial with a clump forming habit. Its foliage is lanceolate and dark green with a simple margin. In summer and early autumn it bears terminal, hermaphroditic flowers composed of light purple rays and brown central disk.
 E. Purpurea, commonly known as the Purple Cone Flower, is native to North America and is found in the prairies of Virginia, Ohio, Michigan, Georgia and Louisiana. It was traditionally used by the Native Americans as a medicinal plant.
 Echinacea is derived from the Greek echinos, meaning 'a hedgehog' in reference to its spikiness, with purpurea being Latin meaning 'purple'.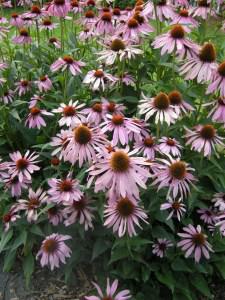 Echinacea purpurea (28/07/2011, London)
The landscape architect may find this plant useful for its drought tolerance and late blooming. It is also quite useful in creating informal prairie schemes to attract wildlife.
The Royal Horticultural Society gave the cultivars Echinacea purpurea 'Elbrook', 'Magnus', 'Rubinstern' and 'Ruby Giant' their prestigious Award of Garden Merit in 2003.
This plant will tolerate almost any soil conditions; it will be happy at acid, neutral or alkaline pH levels, in loam, chalk or sand based soils, preferring a west, east or south facing exposed or sheltered aspect.
Ecologically this plant will attract many species of pollinating insects such as honey bees and butterflies. The foliage is also attractive as food for terrestrial gastropods.
Maintenance: This plant requires little to no maintenance. The stems of the plant may be cut back once flowered to prolong the overall flowering period. This herbaceous plant may be divided in spring or autumn although they resent too much disturbance.