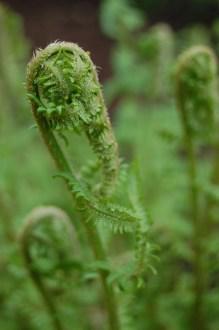 Dryopteris filix-mas Frond (05/05/2012, Kew, London)
Position: Dappled shade to full shade
Flowering period: Spores ripen late summer to autumn
Soil: Moist, damp
Eventual Height: 90cm
Eventual Spread: 60m
Hardiness: 5a – 9a
Family: Dryopteridaceae
Dryopteris filix-mas is a semi-evergreen/ deciduous upright fern. Its mid green leaves emerge from a single crown are bipinnate and form a shuttlecock shape. Its leaves turn a copper color in autumn. Its rachis (stalks) are orange with brown scales. Sori develop on the underside of the leaves, these release the spores in autumn.
Dryopteris filix-mas, commonly known as the Male Fern, Common Male Fern or Worm Fern, is native to most of Europe and occurs in parts of Asia and North America. In its natural habitat it grows in damp shady areas including woodlands, hedges, banks and scree slopes. Dryopteris filix-mas is synonymous with Aspidium filix-mas and Nephrodium felix-mas.
The etymological root of the binomial name Dryopteris is derived from the Greek drus 'Tree' and pteris 'Male Fern'. Filix-mas is derived from thee Latin filix 'fern' and mas 'male'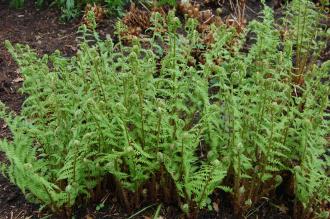 Dryopteris filix-mas (05/05/2012, Kew, London)
The landscape architect may find Dryopteris filix-mas useful in damp shady locations. It is suited to naturalist woodland planting schemes.
Ecologically, D. filix-mas is a food plant for numerous insects.
The Royal Horticultural Society has given D. filix-mas their prestigious Award of Garden Merit in 1993.
D. filix-mas prefers moist, humus rich soils. It tolerates most pH of soil, although it prefers acid soil.
Dryopteris filix-mas requires little maintenance. Dead fronds may be removed in winter.