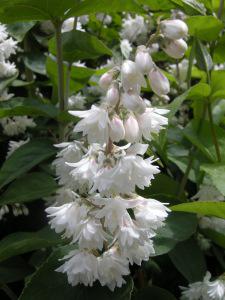 Deutzia scabra Flora Plena flower (07/05/2011, London)
Position: Flourishes in full sun to partial shade.
Soil: Moist but well drained.
Flowering period: Summer.
Eventual Height: 3m
Eventual Spread: 2m
Hardiness: USDA Zone 5a-9b
Family: Hydrangeaceae
Deutzia scabra 'Flora Plena' is a deciduous shrub with an upright habit. The arching shoots have peeling, pale brown bark when mature and carry dark green, broadly ovate leaves and produce dense upright, cylindrical panicles composed of star shaped, double, honey scented, white or pink tinged flowers.
Native to Japan and China D. scabra 'Flora Plena' was introduced to the western world by Robert Fortune in 1822.
Deutzia was named in commemoration of J. van der Deutz, a patron of C. P. Thunburg who described the genus. scabra refers to the bark meaning 'rough or scabrous' from the Latin. 'Flora Plena' refers to this being a double flowered cultivar.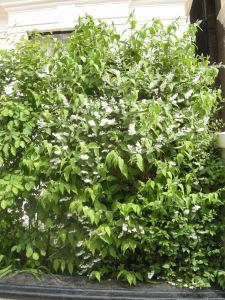 Deutzia scabra Flora Plenar (07/05/2011, London)
This plant is usefull to the landscape architect as an ornamental shrub which tolerates partial shade and requires little care.
This plant will tolerate almost any soil conditions; it will be happy in acid, neutral or alkaline pH levels but will prefer acidic soil.
Ecologically this plant will attract pollinating insects such as bees that will feed on its nectar.
Maintenance: Dead, damaged and older unproductive material should be removed after flowering.