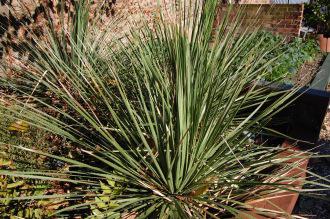 Dasylirion wheeleri (15/10/2011, London)
Position: Full Sun
Flowering period: Summer
Soil: Well drained
Eventual Height: 1.5m (flower 5m)
Eventual Spread: 1.5m
Hardiness: 8a – 11
Family: Asparagaceae
Dasylirion wheeleri is a slow growing evergreen, bushy single stemmed shrub. Its strap like leaves are simple, glaucous with hooked reddish toothed margins and are up to 1m long. The single 'trunk' of the plant is unbranched, and may achieve a diameter of 40cm. The leaves radiate from and around the center of this plant. The dioecious flowers of the plant are bell shaped, are arranged in panicles, are about 2.5cm long and appear on a flower stem which achieves a height of 5m. The color of the flower determines the gender of the plant, with white being male and purple being female. The fruit of the plant is an oval dry capsule which is up to 8mm long and contains a single seed. 
Dasylirion wheeleri, commonly known as Desert Spoon, Spoon Yucca or Common Sotol, is native to arid environments in Northern Mexico and southwestern United States. The Native Americans used this plant for its fiber and as a source of food.
The etymological root of the binomial name Dasylirion is derived from the Greek dasm-leipion 'thick-lilly'. Wheeleri is named after George Montague Wheeler (1842-1905) an American surveyor and explorer.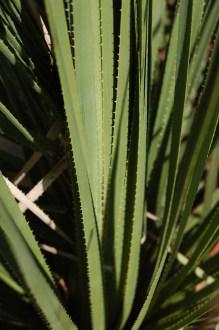 Dasylirion wheeleri detail (15/10/2011, London)
The landscape architect may find Dasylirion wheeleri useful as an architectural specimen plant in dry conditions. Once established it is drought tolerant. Care should be taken when locating this plant due to the barbs found on the strap like leaves.
Ecologically, D. wheeleri's flower is attractive to bees.
The Royal Horticultural Society has given D. wheeleri their prestigious Award of Garden Merit in 2002.
D. wheeleri prefers moist, well-drained soils. It tolerates most pH of soil. It will not tolerate waterlogged conditions.
D. wheeleri requires little maintenance. Old dead leaves may be removed when they turn light brown, this may not be practical due to the thorny nature of the leaf margins.
Advertisement