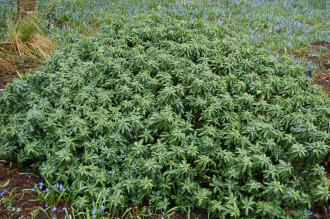 Daphne laureola (23/03/2013, Kew Gardens, London)
Position: Full sun to shade
Flowering period: Late winter
Soil: Moist, well drained
Eventual Height: 1.2m
Eventual Spread: 1.5m
Hardiness: 7a – 10a
Family: Thymelaeaceae
Daphne laureola is an evergreen shrub with a bushy habit. Its dark green glossy leaves are lanceolate with entire margins, up to 13cm long, 3cm wide and appear in whorls at the shoot tips. Its green/ yellow flowers are tubular, hidden among the leaf bases and my or may not be strongly fragrant. Its black fruit are berries and appear in autumn. Its roots may sucker, which aids the spread of this plant.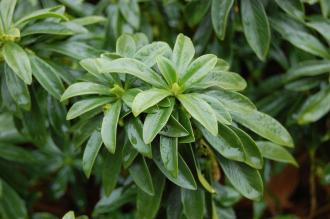 Daphne laureola Leaf (23/03/2013, Kew Gardens, London)
Daphne laureola, commonly known as Spurge Laurel, Copse Laurel or Wood Laurel, is native to much of Europe (including the UK) and north west Mediterranean Africa. In its native habitat this shrub grows in deciduous lowland woodland. All parts of this shrub are toxic and contact with its sap may cause irritation. Outside of its native range this shrub may be an invasive weed, notably it is a Class B weed in Washington state, USA.
The etymological root of the binomial name Daphne is the old Greek name for Laurus nobilis, some authorities say it was named after the river god's daughter in Grecian mythology, who on being pursued by an amorous Apollo, prayed for aid and was transformed into a laurel tree. Laureola is derived from the Latin meaning 'like a Laurus'.
The landscape architect may find Daphne laureola useful as part of a woodland understory or woodland edge planting scheme (and other shady places) due to its shade tolerance.
Ecologically, Daphne laureola flowers are a valuable source of pollen and nectar for pollinating insects. Its berries are attractive to some birds.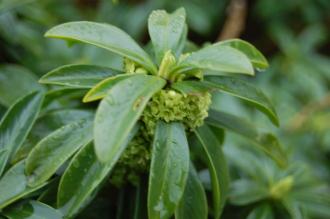 Daphne laureola Flower (23/03/2013, Kew Gardens, London)
Daphne laureola prefers moist, humus rich well-drained soils. It tolerates most pH of soil.
Daphne laureola requires little maintenance. Once established this shrub will not transplant well.