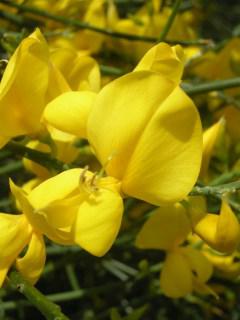 Cytisus scoparius Flower (30/05/2012, London)
Position: Full sun
Flowering period: Late spring to summer
Soil: Sandy, well drained
Eventual Height: 2.5m
Eventual Spread: 2m
Hardiness: 5b – 9b
Family: Fabaceae
Cytisus scoparius is a fast growing semi-evergreen shrub. Its dark green leaves are trifoliate, up to 15mm long and hairy while young. Its young shoots are green. Its trunk. Its bark. Its fragrant yellow hermaphrodite flowers are typical pea like flowers, are 2cm tall and 2cm wide. These are followed by seed pods which are initially green maturing to black, are up to 4cm long and these burst open when ripe. Its roots of this plant fix nitrogen in the soil.
Cytisus scoparius, commonly known as Broom, Common Broom or Scotch Broom, is native to western Europe (including the UK). In its native habitat it grow as part of open scrub land mix on very well drained soils.  Cytisus scoparius is synonymous with Sarothamnus scoparius. All parts of this plant are poisonous. It is classified as an invasive species in a number of North American states, Australia, New Zealand and India.
The etymological root of the binomial name Cytisus is derived from the Greek Kytisos 'a kind of clover', in reference to the leaves of this plant. Scoparius is derived from the Latin Scopa 'Butchers Broom (shrub)'.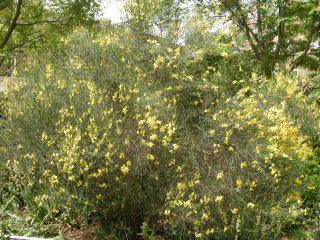 Cytisus scoparius (30/05/2012, London)
The landscape architect may find  Cytisus scoparius useful as part of a native shrub mix on acidic, poor soils, particularly on post industrial landscapes. It is very useful for soil stabilisation on sandy soils. It may be planted as a free flowering informal hedge. it is tolerant of atmospheric pollution. Once established this plant is drought tolerant.
Ecologically, C. scoparius is attractive to pollinating insects. It also provides valuable cover for birds.
C. scoparius prefers moist, sandy, well-drained soils. It prefers an acidic to neutral pH of soil. It will tolerate very acidic soils. It will not tolerate wet soils.
Cytisus scoparius requires little maintenance. It may be pruned after flowering, however old wood should not be cut.