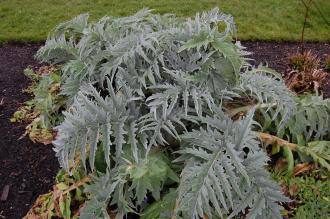 Cynara cardunculus (23/03/2013, Kew Gardens, London)
Position: Full sun
Flowering period: Late summer to autumn
Soil: Moist, well drained
Eventual Height: 2.4m
Eventual Spread: 1m
Hardiness: 7a – 10a
Family: Asteraceae
Cynara cardunculus is a semi-evergreen, clump forming herbaceous perennial. Its silver/ gray spiny leaves are pinnatifid and up to 1m long. Its purple flowers are thistle like and up to 6cm across. Its fruit are achenes. Its roots are fleshy tap roots.
Cynara cardunculus, commonly known as Cardoon or Artichoke Thistle, is native to western and central Mediterranean. This plant is considered to be an invasive weed in parts of Argentina, Australia and California.
The etymological root of the binomial name Cynara is derived from the Greek cuwn meaning 'dog' in reference to its dog teeth shaped leaves. Cardunculus is from the Latin meaning 'thistle-like'.
The landscape architect may find Cynara cardunculus useful as a large herbaceous perennial with showy autumn flowers. Once established this plant is drought tolerant.
Ecologically, Cynara cardunculus is attractive to pollinating insects. Its seeds are attractive to some birds.
The Royal Horticultural Society has given Cynara cardunculus their prestigious Award of Garden Merit in 1993.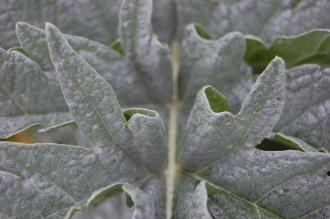 Cynara cardunculus Leaf (23/03/2013, Kew Gardens, London)
Cynara cardunculus prefers moist, fertile, well-drained soils. It tolerates most pH of soil.
Cynara cardunculus requires little maintenance. Large clumps may be divided in spring.