Position: Full sun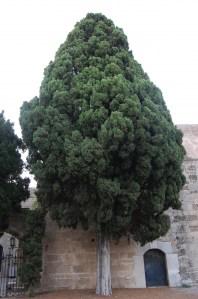 Cupressus sempervirens (05/09/2011, Rhodes, Greece)
Soil: Well drained
Flowering period: Spring
Eventual Height: 30m
Eventual Spread: 5m
Hardiness: USDA Zone 8a-10b
Family: Cupressaceae
C.sempervirens is a medium size, pyramidal evergreen tree that can grow up to 35m . Its foliage grows in dense sprays and is dark green in colour and are almost scentless when crushed. They are scale like, 2-5 mm long produced on rounded shoots. The flowers are inconspicuous and are followed by cones that are small and ovoid, unevenly shaped they emerge green and turn brown over time. The seeds are jagged, shining brown and narrowly winged.   
C.sempervirens, commonly known as the Mediterranean Cypress, Italian Cypress, Graveyard Cypress, or Pencil Pine, is a largely native around the Mediterranean Sea. It has been cultivated extensively and cuttings have been selected to create a very upright specimen tree, this is the most common variety available (the variety show in the imagess are the species). It is a very long lived tree and there are specimens reported to be over  1,000 years old. Classically, the Cypress tree was a symbol of mourning, this remains today as it is the principal cemetery tree in the Muslim world and Europe. It is thought to have arrived in Britain before 1600, but there is no definite record.
 Cupressus is derived from the old Latin name for 'Italian cypress'. Sempivirens is derived from the Latin meaning 'always green'.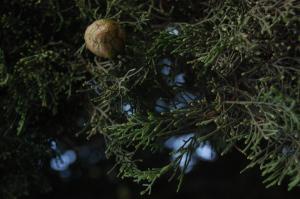 Cupressus sempervirens seed (05/09/2011, Rhodes, Greece)
This plant is useful to the landscape architect as an excellent avenue tree due to it regular columnar nature. In the UK it is not suitable for exposed or cold sites. Once established this plant is drought tolerant.
This plant prefers a well drained soil and soil particle sizes ranging from sandy to clay. It tolerates a soil pH ranging from acid to alkali. 
The Royal Horticultural Society has given this tree their prestigious Award of Garden Merit to the C.sempervirens Stricta Group in 1993.
Maintenance: This tree requires no pruning.