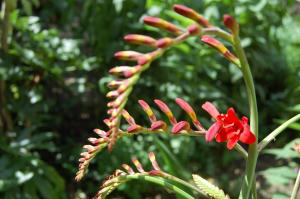 Crocosmia 'Lucifer' flower (27/07/2011, London)
Position: Full sun to partial shade
Soil: Well drained soil
Flowering period: Summer
Eventual Height: 1m
Eventual Spread: 50cm
Hardiness: USDA Zone 6a-9b
Family: Iridaceae
Crocosmia 'Lucifer' is a deciduous cormous perennial with a clump forming habit. It has long, lanceolate, erect, basal, and channelled bright green leaves. it bears monoecious, funnel shaped, deep rich red flowers in dense branching spikes in mid-summer.
The Crocosmiagenus, commonly known as Montbretia is native to South Africa. In America they are known as Coppertips and in various temperate climates around the world some hybrids have become invasive weeds as the corms may become separated from the plant making it difficult to remove. Crocosmia has a long horticultural history. A major development, by Victor Lemoine, of the genus occurred in France in 1879 with the crossing of C. aurea with C. pottsii which produced the interspecific hybrid Crocosma x croccosmiiflora. C. 'Lucifer' was produced by Alan Bloom in 1966 and is likely, although it is the result of a century of hybridization, to contain a large proportion of C. masoniorum and C. paniculata in its genes.
Crocosmia is derived from the Greek krokos, meaning "saffron", and osme, meaning "odour".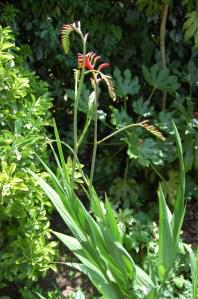 Crocosmia 'Lucifer' (27/07/2011, London)
This plant may be useful to the landscape architect in an informal prairie scheme or as part of a mixed planting scheme. It is also drought tolerant once established.
The Royal Horticultural Society have given it their prestigious Award of Garden Merit.
This plant will tolerate almost any soil conditions; it will be happy in neutral, acid or alkaline pH levels, in loam, clay, chalk or sand based soils facing an exposed or sheltered southern, eastern or western facing aspect.
Ecologically this plant will attract pollinating insects such as butterflies and honey bees and although it is not native to this continent it has been known to attract large numbers of these pollinating insects.
Maintenance: Requires no maintenance. The foliage may be left on the plant over winter to protect the corms. The clumps may be divided in spring.