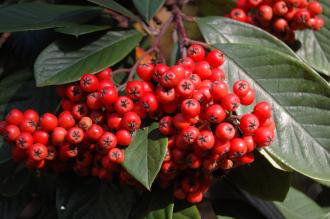 Cotoneaster frigidus 'Cornubia' berry (01/11/2011, London)
Position: Full Sun to partial shade
Flowering period: Early Summer
Soil: Well drained
Eventual Height: 6m
Eventual Spread: 6m
Hardiness: USDA Zones 6a – 9b
Family: Rosaceae
Cotoneaster frigidus 'Cornubia' is a large semi-evergreen shrub which may be grown as a small tree. It has a rounded, compact, bushy upright growth habit. The narrow leaves of the plant are 12 centimeters in length, elliptical, veined and dark green. The arching branches of the plant spread outwards. The flowers of this plant are borne in densely clustered flattened heads, with a frothy appearance. The flowers are quite small and can be white or pink in color. The berries of the plant are bright red and are borne quite densely in late summer and persist through the winter month, birds permitting.
Cotoneaster frigidus 'Cornubia', commonly known as Cotoneaster, is native to the Palaearctic region of Asia, Europe and north Africa, with a strong concentration of diversity in the genus located at the mountains of southwestern China and the Himalayas. The variety C. frigidus 'Cornubia' was raised at Rothschild Exbury estate before 1933.
The etymological root of the binomial name Cotoneaster is derived from the old Latin name cotone 'quince', aster being a Latin substantival suffix indicating 'resembling'. Frigidus is derived from the Latin frigida 'cold' or 'stiff', referring to the plants arching branches. The final part, Cornubia is a latinized name for early Cornwall.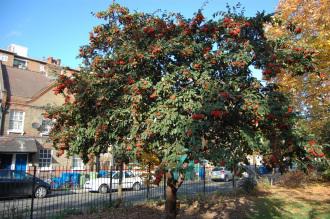 Cotoneaster frigidus 'Cornubia' (01/11/2011, London)
The landscape architect may Cotoneaster frigidus 'Cornubia' useful as a large evergreen flowering shrub which provides winter interest in the form of berries. It may also be grown as an informal hedge. Once established this plant is drought resistant.
Ecologically, this plant is attractive to larval for food. It also attracts some Moth species. The flowers attract bees and butterflies and the fruits are eaten by birds, such as blackbirds or thrushes.
Cotoneaster frigidus 'Cornubia'  was awarded the prestigious Royal Horticultural Societies annual Award of Garden Merit in 2002.
C. frigidus 'Cornubia' will tolerate most soils although it prefers well drained, moist soil. It will tolerate most pH of soil.
Maintenance: This plant requires little maintenance. Hedge cutting should be carried out when the fruits begin to spoil.
Advertisement
Eco World Content From Across The Internet.

Featured on EcoPressed
9 Benefits Provided by Forests