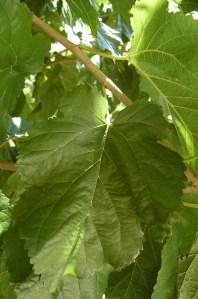 Corylus colurna leaf (21/08/2011, Athens, Greece)
Position: Full sun to partial sun
Soil: Chalk Soil, Clay Soil
Flowering period: Spring
Eventual Height: 20m
Eventual Spread: 12m
Hardiness: USDA Hardiness Zones 4a-8b
Family: Betulaceae
Corylus colurna  is a deciduous tree with a medium growth rate and a pyramidal habit. The crown is slender conic in young trees, becoming much broader with age. The bark is light grey, with a corky texture. It's deciduous leaves are rounded, 6-15 cm long and 5-13 cm across. They are softly hairy on both surfaces, with a coarsely double-serrate to shallowly lobed margin.The flowers are monoecious, with single sex catkins and are produced in early spring before the leaves.  The male flowers are pale yellow and 5-10cm long, the female are very small and are largely concealed in the buds, with only the bright red 1-3mm long styles visible. The fruit is a nut which is 1-2cm long and produced in autumn.
C. colurna, commonly known as the Turkish Hazel, is native to southeast Europe and southwest Asia, through to the Balkans, Northern Turkey and Northern Iran. It's wood has a wide range of uses making it well recognized throughout Britain especially in agricultural history. This tree was introduced to the UK in 1582.
The name Corylus is derived from  the Greek word krylos, which means Hazelnut. Colurna is a latinized form of the vernacular name for this plant.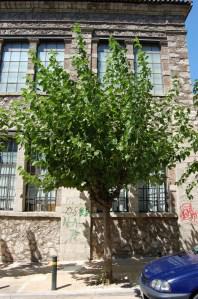 Corylus colurna (21/08/2011, Athens, Greece)
The landscape architect may find this tree suitable for parkland and avenue planting due to its regular pyramidal habit. It is also a very urban tolerant plant, can survive drought, is tolerant of poor soils and is also not plagued by disease or pest problems.
This plant will tolerate most soils and is noted for its ability to cope with poor soils. It  preferred type is alkaline PH soils which are moist and well drained in full sunlight.
The Royal Horticultural Society gave the tree C. colurna their prestigious Award of Garden Merit in 1993.
Ecologically this tree will attract squirrels due to the 1cm diameter nuts that it produces which mature in early autumn. It also allows for cross-pollination between different trees thus allowing for a good fruit set.
Maintenance: Requires little to no maintenance. Dead or damaged material may be removed in late winter to early spring.