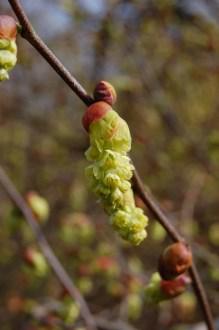 Corylopsis sinensis flower (11/03/2012, Kew, London)
Position: Sun to partial shade
Flowering period: Late winter to spring
Soil: Moist, well drained
Eventual Height: 4m
Eventual Spread: 4m
Hardiness: 6a – 9a
Family:  Hamamelidaceae
Corylopsis sinensis is a vigorous, medium sized, deciduous, spreading shrub. Its dark green leaves are broadly ovate, alternate and simple with bristly serrated edges, deeply veined, up to  15cm long and are glaucous on their undersides. Its bark is brown in color with a smooth texture. The fragrant flowers of this plant are cruciform in shape, fragrant, pastel yellow, are borne in pendant racemes which are up to 8cm long and appear on the bare stems of this shrub. The fruit is a small, dry, 2 valved capsule.
Corylopsis sinensis, commonly known as Chinese Winter Hazel, is native to west and central China. The plant was described in 1906 by William Botting Hemsley. It was introduced into Britain by Ernest H. Wilson in 1900 from China.
The etymological root of the binomial name Corylopsis is derived from the Greek 'korylos' Hazel and 'oyis' 'appearance', in reference to the leaves' similarity to those of the Hazel. Sinensis is derived from the Latin meaning 'from China'.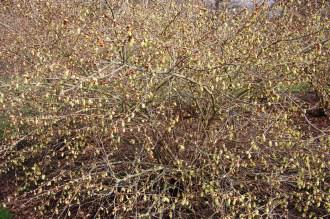 Corylopsis sinensis (11/03/2012, Kew, London)
The landscape architect may find Corylopsis sinensis useful as an attractive early spring flowering shrub. To be best appreciated it needs space. It also would make a good screening or informal hedging plant.
Ecologically, C. sinensis does not have much wildlife value  in the UK.
The Royal Horticultural Society has given C. sinensis var. sinensis their prestigious Award of Garden Merit in 1993.
C. sinensis prefers moist, humus rich, well-drained soils. It tolerates most pH of soil, although it prefers acidic soils.
C. sinensis requires little maintenance.