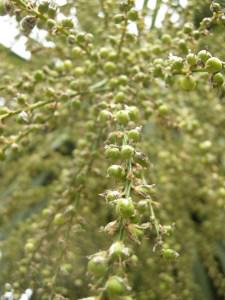 Cordyline australis seed (15/08/2011, London)
Position: Full sun to partial shade
Soil: Well drained soil
Flowering period: Summer
Eventual Height: 8m
Eventual Spread: 4m
Hardiness: USDA Zone 7a-9b
Family: Asparagaceae
Cordyline australis is an evergreen monocot tree with a tufted habit. Its palm-like foliage emerges from the growing tips of the branched trunk in dense rosettes of pale green, waxy, lanceolate leaves. In summer it bears large hanging panicles composed of small, slightly fragrant, pale cream flowers.
C. australis, commonly known as the Cabbage Tree, is native to New Zealand and has been naturalised in many countries including the UK. It was traditionally used by the Maori people as both a source of food and to produce an extremely strong rope.
Cordyline is derived from the Greek kordyle, meaning 'club', with australis being a Latinised word referring to its origins on the Australian continent.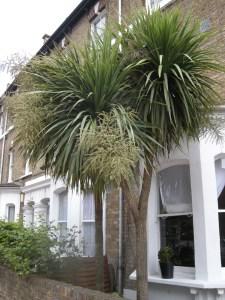 Cordyline australis (15/08/2011, London)
This plant may be useful to the landscape architect as a low maintenance and exceptional drought tolerant low growing tree. It is also tolerant of salty coastal conditions. Its distinctive form and foliage make it an effective specimen tree and it associates well with grasses, spiky foliaged plants and prairie style planting.
The Royal Horticultural Society gave this plant their prestigious Award of Garden Merit in 1993. The cultivars Cordyline australis 'Albertii' and 'Lemon Fountain' gained the award in 1994 and 2004 respectively with 'Sundance', 'Torbay Dazzler' and 'Torbay Red' all receiving the award in 2002.
This plant will tolerate almost any soil conditions; it will be happy at neutral, acid or alkaline pH levels, in loam, chalk, clay or sand based soils, in a west or south facing, sheltered aspect.
This plant has many ecological associations in its native New Zealand but these plants and animals are usually not found on this continent significantly lowering its ecological impact.
Maintenance: This plant requires no maintenance. Dead foliage may be removed from the tree and swept from beneath the plant. In colder parts of the UK the crown of the tree may need protecting with horticultural fleece during the winter months.