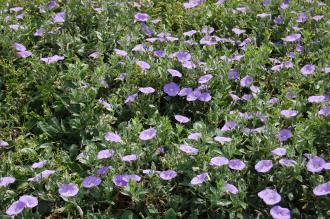 Convolvulus sabatius (27/07/2013, Kew Gardens, London)
Position: Full sun
Flowering period: Early summer to early autumn
Soil: Moist, well drained
Eventual Height: 20cm
Eventual Spread: 90cm
Hardiness: 8b, 9a, 9b, 10a, 10b
Family: Convolvulaceae
Convolvulus sabatius is a deciduous herbaceous perennial with a trailing habit. Its mid green leaves are ovate with entire margins, up to 30mm long and 25mm broad. Its stems are herbaceous, are able to twine and climb and die back to ground level each year. Its blue/ purple flowers are funnel shaped and up to 25mm across.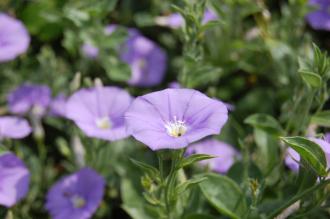 Convolvulus sabatius Flower (27/07/2013, Kew Gardens, London)
Convolvulus sabatius, commonly known as Blue Rock Bindweed, Mauritian bindweed or Ground Morning Glory, is native to parts of Spain and Italy and parts of North Africa. Convolvulus sabatius is synonymous with Convolvulus mauritanicus.
The etymological root of the binomial name Convolvulus is derived from the Latin convolvere meaning ' to coil or twist', in reference to twining climbing habit of a umber of this genus. Sabatius is named after the region Vada Sabatia in Italy where this species was first described.
The landscape architect may find Convolvulus sabatius useful as a trailing, low growing deciduous perennial. This species of Convolvulus is not invasive. Once established this plant is drought tolerant.
Ecologically, Convolvulus sabatius flowers are attractive to nectar loving pollinating insects.
The Royal Horticultural Society has given Convolvulus sabatius their prestigious Award of Garden Merit in 1993.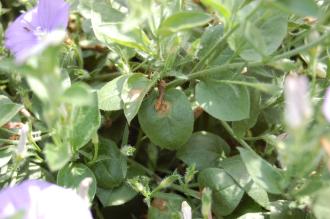 Convolvulus sabatius Leaf (27/07/2013, Kew Gardens, London)
Convolvulus sabatius prefers moist, gritty, well-drained soils. It tolerates most pH of soil.
Convolvulus sabatius requires little maintenance. Dead stems may be removed during the winter months to keep a tidy appearance.