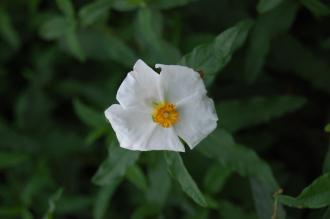 Cistus x laxus flower (12/11/2011, Kew, London)
Position: Full Sun 
Flowering period: Spring to Early Atumn
Soil: Moist, well-drained
Eventual Height: 1.2m
Eventual Spread: 1.8m
Hardiness: USDA Zones 8a – 11
Family: Cistaceae 
Cistus x laxus is an evergreen deciduous shrub with a rounded or mounded growth habit. The grey/ green foliage is velvet and fuzzily textured and quite aromatic when crushed. The leaves are opposite, simple and usually have a slightly rough surface and are 2-8cm long in length. The flowers are white with yellow centres and are 6cm across. They usually have 5 showy petals.
Cistus x laxus is commonly known as Rock Rose. The parents of this plant are native the mediterranean region, from Morocco and Portugal through to the Middle East and also on the Canary Islands and are usually found on dry rocky soils. C. x laxus is a cross between C. populifolius and C. inflatus.
The etymological root of the binomial name Cistus is derived from the ancient Greek name for the plant. Laxus is derived from the Latin laxo meaning 'loose' or 'relaxed'.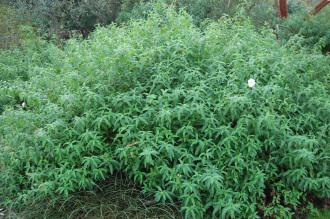 Cistus x laxus (12/11/2011, Kew, London)
The landscape architect may find Cistus x laxus useful as a robust, evergreen, long flowering ground cover shrub.
C. x laxus is ecologically valuable in that it provides food for larvae and some moth species and is attractive to bees and butterflies.
C. x laxus prefers well drained soils. It will tolerate most soil pH levels.
Maintenance: This plant requires little maintenance.