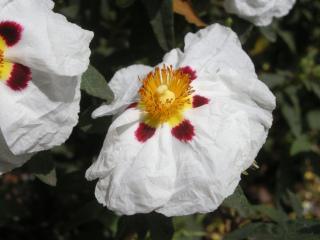 Cistus ladanifer Flower (30/05/2012, London)
Position: Full sun
Flowering period: Late spring to summer
Soil: Moist, well drained
Eventual Height: 2m
Eventual Spread:1.5m
Hardiness: 7b – 10b
Family: Cistaceae 
Cistus ladanifer is an evergreen upright shrub with a loose open habit. Its dark green leaves are lanceolate with entire margins, up to 10cm long and 2cm broad and are gray on the underside. The leaves are covered in a fragrant resin. Its branches. Its white flowers have 5 distinctive maroon spots at the base of its petals, are up to 10cm across and have yellow stamens and pistils at its center.
Cistus ladanifer, commonly known as Gum Rockrose, Labdanum, Common Gum Cistus and Brown-eyed Rockrose, is native to the western Mediterranean region. The resin of this plant has historically been used in perfumes.
The etymological root of the binomial name Cistus is derived from the ancient Greek name for the plant. Ladanifer is derived from the Latin ladanum 'resinous juice', in reference to this plant's resin.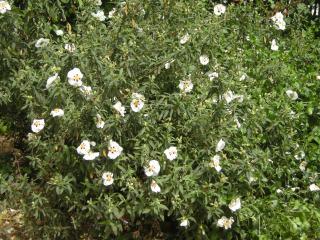 Cistus ladanifer (30/05/2012, London)
The landscape architect may find Cistus ladanifer useful on poor, dry soils, in a sheltered location. Once established this plant is drought tolerant.
Ecologically, C. ladanifer is attractive to pollinating insects.
The Royal Horticultural Society has given C. ladanifer their prestigious Award of Garden Merit in 1993.
C. ladanifer prefers moist, fertile, well-drained soils. It tolerates most pH of soil, although it dislikes chalky soils. It will tolerate stony very well drained, poor soils. It will not tolerate water logging.
Cistus ladanifer requires little maintenance. Pruning should be carried after flowering, old wood should not be cut.