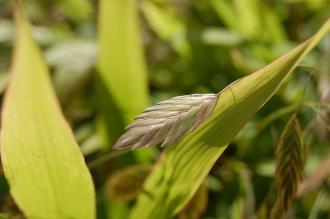 Chasmanthium latifolium Flower (08/09/2012, Kew Gardens, London)
Position: Full sun to partial shade
Flowering period: Late summer
Soil: Moist, well drained
Eventual Height: 1m
Eventual Spread:  70cm
Hardiness: 5a – 9a
Family: Poaceae
Chasmanthium latifolium is a tufted, deciduous, perennial grass. Its mid green leaves are narrowly lance shaped and up to 20cm long. Its leaves turn yellow/ brown in late autumn, and remain on the plant until the new foliage emerges the following spring. Its flowers are borne on arching stems, these are flattened, pendulous spikelet which are up to 1cm in length. Its roots are rhizomes which enables its spread.
Chasmanthium latifolium, commonly known as Wood Oats, River Oats, North American Wild Oats, Northern Sea Oats or Spangle Grass, is native to south eastern United States and north east Mexico. In its native habitat it typically grows at woodland edges and river banks. Chasmanthium latifolium is synonymous with Uniola latifolium.
The etymological root of the binomial name Chasmanthium is from the Latin chasma meaning 'fissure' and anthinus meaning 'from flowers'. Latifolium is derived from the Latin Latus meaning 'broad' and folium meaning 'leaf'.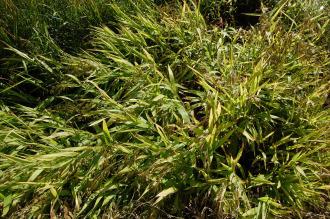 Chasmanthium latifolium (08/09/2012, Kew Gardens, London)
The landscape architect may find  Chasmanthium latifolium useful as a low maintenance ornamental grass and as part of a prairie type planting scheme.
Ecologically, Chasmanthium latifolium the seed of this plant is attractive to some mammals and birds.
Chasmanthium latifolium prefers moist, fertile, well-drained soils. It tolerates most pH of soil. It will tolerate wet soils.
Chasmanthium latifolium requires little maintenance. Dead leaves may be remove in spring as the new leaves emerge. Large clumps may be divided in early summer.