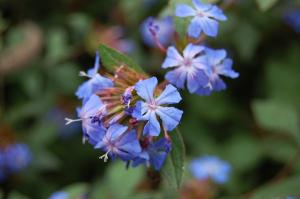 Ceratostigma willmottianum flower (16/10/2011, London)
Position: Full sun to light shade
Flowering period: Late summer to early august
Soil: Well drained
Eventual Height: 1m
Eventual Spread: 1.5m
Hardiness: USDA Zones 6a-9b
Family: Plumbaginaceae
Ceratostigma willmottianum is a bushy, deciduous, woody shrub with a  straggly rounded habit. The stems of this plant are slender and straight, the young growth is tinged with dark red, the older growth is dark brown. It's leaves are spirally arranged, rounded and quite simple. They are 2cm in length and usually have hairy margins (which are usually purple) and turn red in autumn. The tubular hermaphrodite flowers are light blue in color and appear in the form of dense clusters from August to October. The fruit is a small bristly capsule containing a single seed. 
C. willmottianum, commonly known as Hardy Plumbago or Chinese Plumbago, is native to West Sichuan (China) and Tibet. It is named after Miss Ellen Willmott (1860-1934) who was a well known English amateur gardener and english horticulturist. She was an influential member of the Royal Horticultural Society and a recipient of the first Victoria Medal of Honor in 1897. More than 60 plants have been named after her or her home, Warley Place.
The etymological root of the binomial name of Ceratostigma is derived from the Greek keras 'horn-shaped' and stigma 'stigma', referring to the horn shaped stigma. The term Willmottianum is derived from the surname of the amateur English Gardener Ellen Willmott.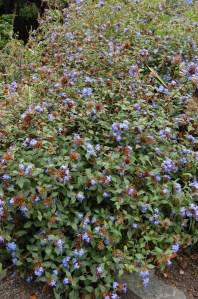 Ceratostigma willmottianum (16/10/2011, London)
The landscape architect find Ceratostigma willmottianum useful as a late flowering groundcover plant. This plant is drought tolerant once established.
Ecologically, this plant is attractive to butterflies.
Ceratostigma willmottianum has won the prestigious Royal Horticultural Societies annual Award of Garden Merit in 1993.
C. willmottianum  prefers a fertile, well-drained soil. It will tolerate most pH of soil.
Maintenance: This plant requires little maintenance. This plant may be cut back hard in the spring to promote new vigorous growth.
Advertisement
Eco World Content From Across The Internet.

Featured on EcoPressed
The EU is subsidising illegal fishing