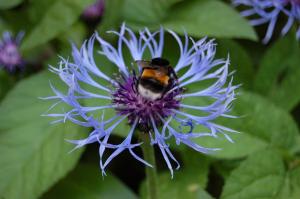 Centaurea montana flower (26/05/2011, Prague)
Position: Full sun to light shade
Soil: Moist and well drained.
Flowering period: Summer.
Eventual Height: 50cm
Eventual Spread:  60cm
Hardiness: USDA Zone 3a-8b
Family: Asteraceae
Centaurea montana is a herbaceous rhizomatous perennial with a spreading habit. Its foliage can be simple or lobed and is hairy underneath. its flowers, borne on lax stems in summer can be pink, purple, blue or white. they have thistle like centres encircled by star shaped ray petals.
C. Montana, commonly known as Bachelor's Button, Blue Cornflower, Mountain Centaury or Mountain Blue, is native to most of Europe most commonly found in the southern mountain ranges.  It has been used traditionally in herbalism to treat conjunctivitis. It also has cultural significance in many countries, for example being the national flower of Estonia and in France it is worn in remembrance of veterans, similar to poppies in the UK.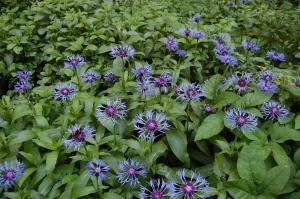 Centaurea montana (26/05/2011, Prague)
Centaurea is derived from the Latin, referring to the Centaur Chiron who discovered the medicinal uses of the plant that came to be known as Centaury. Montana is derived from the Latin meaning 'of the mountains'
This plant may be useful to the landscape architect as a herbaceous ground-cover, including under the dappled shade of deciduous trees. This plant is also useful as part of a prairie style planting scheme.
This plant will tolerate almost any soil conditions; it will be happy in acid, neutral or alkaline pH levels, in loam, sand, clay or chalk in a sheltered or exposed location facing any aspect.
Ecologically this plant will attract many pollinating insects such as honey bees.
Maintenance: Little maintenance required. It may be deadheaded to prolong flowering.