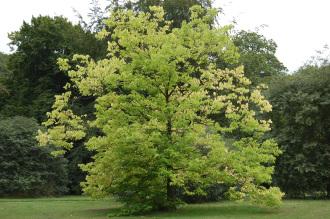 Celtis occidentalis Autumn (21/09/2013, Kew Gardens, London)
Position: Full sun to partial shade
Flowering period: Early summer
Soil: Moist, well drained
Eventual Height: 20m
Eventual Spread: 20m
Hardiness: 3a, 3b, 4a, 4b, 5a, 5b, 6a, 6b, 7a, 7b, 8a, 8b, 9a
Family: Cannabaceae
Celtis occidentalis is a deciduous with a rounded, spreading habit. Its mid green leaves are ovate to ovate-lancelate with serrate margins, are asymmetric at their bases, up to 10cm long and 6cm broad. In autumn its leaves turn pale yellow. Its branches. Its light brown/ sliver gray bark is scaly. Its green flowers are monoecious, the male appearing on slender drooping pedicels. Its red/ purple fruit are berries and appear in autumn.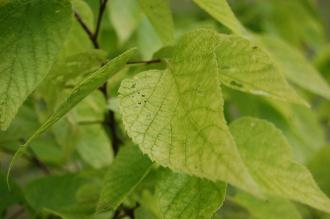 Celtis occidentalis Autumn Leaf (21/09/2013, Kew Gardens, London)
Celtis occidentalis, commonly known as the Common Hackberry, Nettle Tree, Northern Hackberry or American Hackberry, is native to north east and central North America.
The etymological root of the binomial name Celtis is from the ancient Greek meaning 'a tree with sweet fruit'. Occidentalis is from the Latin meaning 'from the west'.
The landscape architect may find Celtis occidentalis useful as an attractive medium sized tree with attractive autumn color. As this tree is tolerant of urban pollution it is also suitable as a street tree. Once established this tree is drought tolerant.
Ecologically, Celtis occidentalis berries are eaten by some bird and mammal species.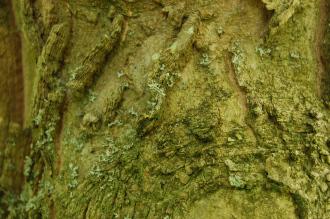 Celtis occidentalis Bark (21/09/2013, Kew Gardens, London)
Celtis occidentalis prefers moist, deep, fertile, well-drained soils. It tolerates most pH of soil.
Celtis occidentalis requires little maintenance.