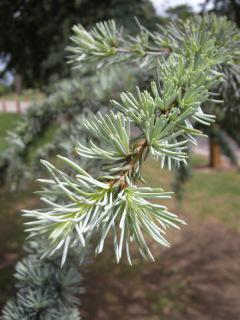 Cedrus libani leaves (17/05/2011, Cambridge)
Position: Full sun
Flowering period: Summer
Soil: Moist, well drained
Eventual Height: 40m
Eventual Spread: 15m
Hardiness: 5a – 8a
Family: Pinaceae
Cedrus libani is a slow growing evergreen, spreading conifer tree. The crown of this tree is conic when young, becoming more spreading with age. Its leaves are needle like, blue/ green, 3cm long and whorled. Its branches are tiered. The trunk of this tree may achieve a diameter of 2.5m. The bark is blackish brown with closely spaced ridges and cracks. The flowers of this tree are monoecious.  The fruit of the tree is an ovid, upright barrel shaped seed cone which are up to 12cm long. They are initially  purple/ grey, becoming brown with age and mature in 12 months.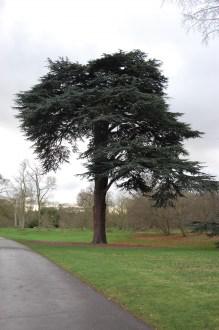 Cedrus libani (21/01/2012, Kew, London)
Cedrus libani, commonly known as the Cedar of Lebanon or the Lebanon Cedar, is native to the mountains of the east Mediterranean. It was introduced into the UK in 1638, however its popularity as a specimen tree did not take off until the early 19th century. This tree was popular with the 18th century landscape designer (architect) Lancelot Brown, more commonly known as 'Capability Brown'. The Cedar of Lebanon appears at the center of the Lebanese flag.
The etymological root of the binomial name Cedrus is derived from the ancient Greek kedros which was used to describe many plants of the Cedrus and Juniperus genera. Libani is derived from the Latin meaning from Lebanon.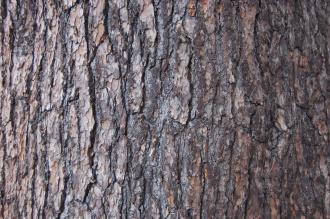 Cedrus libani trunk (21/01/2012, Kew, London)
The landscape architect may find Cedrus libani useful as an attractive large  evergreen parkland tree.
Ecologically, C. libani in not valuable to wildlife in the UK.
The Royal Horticultural Society has given C. libani their prestigious Award of Garden Merit in 1993.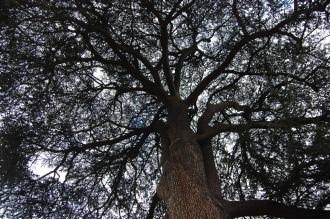 Cedrus libani canopy (21/01/2012, Kew, London)
C. libani requires little maintenance.
Advertisement