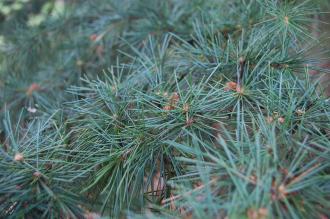 Cedrus deodara Leaves (21/01/2012, Kew, London)
Position: Full sun
Flowering period: Autumn
Soil: Moist, well drained
Eventual Height: 50m
Eventual Spread: 12m
Hardiness: 7b – 9b
Family:Pinaceae
Cedrus deodara is a large, fast growing evergreen tree with a conical crown. Its slender needle like leaves are spirally arranged on young shoots. They are up to 5cm long emerging bright green becoming glaucous with age. The branches are level with drooping branchlets. The bark is dark brown, initially smooth, developing vertical and diagonal cracks with age. Its trunk may achieve a diameter of up to 3m. This tree is monoecious and the female cones are barrel shaped and achieve an ultimate length of up to 10cm and 6cm across. These are initially bluish, becoming red/ brown with age. These disintegrate when mature and release winged seeds. The male cones are up to 6cm long a shed their pollen in autumn.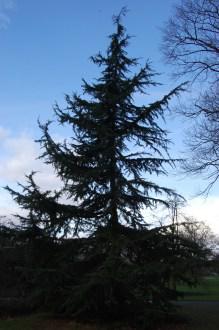 Cedrus deodara (21/01/2012, Kew, London)
Cedrus deodara, commonly known as Himalayan Cedar, the Deodar Cedar or just Deodar, is native to the western Himalayas region. It naturally occurs at altitudes of 1500 – 3200m. This tree is the national tree of Pakistan. It was brought into the UK from the Himalayas in 1831, where it became a favored tree to plant on the lawns of large country houses and Georgian rectories.
The etymological root of the binomial name Cedrus is derived from the ancient Greek kedros which was used to describe many plants of the Cedrus and Juniperus genera. Deodara is derived from the Sanskrit devadāru 'wood of the gods'.
The landscape architect may find Cedrus deodara useful as large, evergreen specimen parkland tree. Once established this tree is drought tolerant.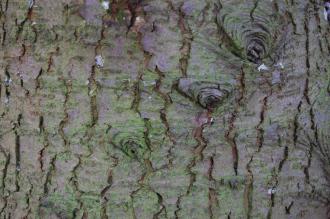 Cedrus deodara Trunk (21/01/2012, Kew, London)
Ecologically C. deodara's are used as food plants by the larvae of some Lepidoptera species including Pine Processionary and the Turnip Moth.
The Royal Horticultural Society has given C. deodara their prestigious Award of Garden Merit in 1993.
C. deodara prefers moist, well-drained soils. It tolerates most pH of soil, although it prefers neutral to alkali soils.
C. deodara requires little maintenance.
Advertisement