Position: Flourishes in full sun.
Soil: Moist but well drained.
Flowering period: Spring.
Eventual Height: 30m
Eventual Spread: 10m
Hardiness: USDA Zone 6a-9a
Family: Pinaceae
Cedrus atlantica is an evergreen tree with a conical habit that becomes more open as it matures. It has fissured, silvery grey bark and produces sharply pointed, roughly four sided, dark green to glaucous blue leaves in whorls of 30-45. This tree is monoecious, bearing male and female cones on the same plant. The male cones are 5cm long and mostly located on the lower part of the tree, the female are upright and purple and mostly located on the upper part of the plant. The female cones them mature to 7cm barrel shaped cones, taking two years to mature.
C. atlantica has historically been planted as an ornamental tree, with many notable examples throughout the world including a specimen on the white house lawn that contained a simple tree house designed by the 38th president of the united states Jimmy Carter so as not to damage the tree.
Cedrus is derived from the ancient Greek kedros which was used to describe many plants of the Cedrus and Juniperus genera, with atlantica meaning 'of or from the Atlas mountains' in northwest Africa.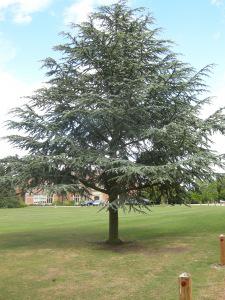 Cedrus atlantica (12/05/2011, Cambridge)
The landscape architect may find this plant is useful as a majestic specimen tree. Care should be taken when locating this tree due to its eventual size. Other forms of this plant is C. atlantica f. Aurea (foliage is a golden yellow when young), C. atlantica 'Glauca" (Blue Atlas Ceedar, with blue green needles),  C. atlantica 'Argentea' (silver blue needles),

This plant is happy at most pH levels and the soil may be chalk, clay, loam or sand, it prefers moist deep soil. It may be placed in a sheltered or exposed location although this tree may incur needle burn during cold winters when placed in a windy location.
Ecologically this plant will cater for the larvae of some species of Lepidoptera.
The Royal Horticultural Society have given the form C. atlantica f. Aurea their prestigious Award of Garden Merit.
Maintenance: This tree requires little care, may require a tree surgeon to ensure it will not damage surroundings.