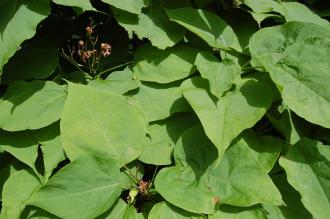 Catalpa speciosa Leaf (28/07/2012, Kew Gardens, London)
Position: Full sun to light shade
Flowering period: Late spring
Soil: Moist, well drained
Eventual Height: 30m
Eventual Spread: 12m
Hardiness: 4a – 9a
Family: Bignoniaceae
Catalpa speciosa is a fast growing medium sized deciduous tree with a rounded to oval crown. Its light green leaves are opposite, cordate with entire margins, up to 30cm long and 20cm broad. Its trunk may achieve a diameter of up to 1m. Its bark is brown/ gray and becomes ridged with age. Its bell shaped flowers are white with yellow stripes and purple spots inside, appear in panicles of up to 30 and are up to 4cm long and 5cm broad. Its fruit is a hanging legume like pod, round in cross section and will achieve a length of up to 40cm long. These usually remain on the tree during the winter months.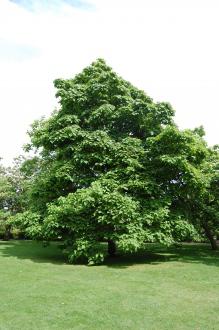 Catalpa speciosa (28/07/2012, Kew Gardens, London)
Catalpa speciosa, commonly known as the Northern Catalpa, Hardy Catalpa, Western Catalpa, Cigar Tree or Catawba Tree, is native to midwest United States.
The etymological root of the binomial name Catalpa is believed to be a mispronunciation of the name of the Catawba Native Americans. Speciosa is from the Latin meaning 'spectacular'.
The landscape architect may find  Catalpa speciosa useful as a spectacular flowering specimen tree. It is tolerant of urban pollution. Care should be taken when locating this tree as the seed pods and seeds fall off this tree during the winter and spring.
Ecologically, C. speciosa is attractive to pollinating insects.

C. speciosa prefers moist, fertile, well-drained soils. It will tolerate most pH of soil. It is noted for being tolerant of a wide range of soil moisture.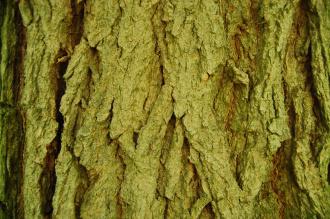 Catalpa speciosa Bark (28/07/2012, Kew Gardens, London)
Catalpa speciosa requires little maintenance.