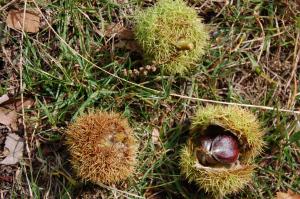 Castanea sativa nuts (17/09/2011, London)
Position: Full sun 
Flowering period: Summer
Soil: Well drained
Eventual Height: 30m
Eventual Spread: 15m
Hardiness: USDA Zones 4a-11
Castanea sativa is a medium sized, long lived, deciduous, broadleaf tree attaining a maximum trunk girth of 2m in diameter. The leaves are oblong, lanceolate and are 5-9 cm at there widest point. The have a serrated or toothed edge and are generally green in colour with a glossy effect. The leaves turn bronze and gold in the autumn months. The bark of the tree often has a net like pattern with grooves spiraling up the trunk, which are quite deep. The flowers of the tree are monoecious and are borne in 10-20 cm long, upright catkins in June and July. The male flowers are in the upper part of the catkin, the female being in the lower. The fragrant female flowers then develop into spiny protective cases called cupules, which are designed to deter seed predators such as squirrels. These capules contain nuts in groups of 3-7 in October.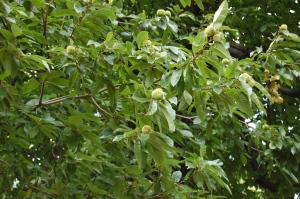 Castanea sativa detail (17/09/2011, London)
C. sativa, commonly known as the Sweet Chestnut, European Chestnut, Spanish Chestnut, Portugese Chestnut or Marron, and is widespread across Europe. It is native to south Europe, north Africa and Asia Minor including the lower Himalayas and temperate parts of the Indian Subcontinent. This tree is believed to have been introduced by the Romans. Today, centuries old species may be found in Great Britian with some species in Kew Gardens dating back to the early 18th/late 17th centuries. The reason for this is this species was a favorite tree of these centuries, with many being planted by Charles Bridgeman, a famous garden designer of the time credited with starting the English Landscape Movement and who worked at Kew Gardens. Its chestnuts have been used for centuries as an ingredient in cooking.
The name Castanea is derived from the Latin name for Chestnut. The term sativa is derived from the Latin meaning 'cultivated' (for crops).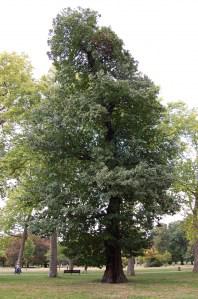 Castanea sativa (17/09/2011, London)
The landscape architect may find this plant useful as a parkland tree, both as a specimen and planted in avenues. It is also suitable for stressed environments including urban street planting and maritime exposure. This tree is also suitable for coppicing.
Ecologically this plants leaves provide food for some insects, including bees and Lepidoptera (such as the case bearer moth). The nuts are eaten by mammals in autumn.
This plant will tolerate most soil textures, being able to grow in nutritionally poor soils. It can tolerate drought conditions and maritime exposure. It does not like chalky soils.
The Royal Horticultural Society has given the species of this plant their prestigious Award of Garden Merit in 1993.
Maintenance: This tree requires little maintenance. Maintenance pruning or coppicing should be carried out during the winter months.