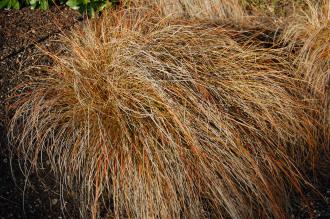 Carex testacea (18/11/2012, Kew Gardens, London)
Position: Full sun to partial shade
Flowering period: Summer
Soil: Moist, well drained
Eventual Height: 50cm
Eventual Spread: 50cm
Hardiness: 6b – 9a
Family: Cyperaceae
Carex testacea is an evergreen medium sized clump forming grass. Its leaves are strap shaped and arching, appear olive green in spring and turn copper/ orange as the mature. Its flowers appear on small brown spikes.
Carex testacea, commonly known as the Orange New Zealand Sedge or Orange Sedge, is native to New Zealand.
The etymological root of the binomial name Carex is from the old Latin name for reed grasses, sedges and rushes. Testacea is from the Latin meaning 'resembling brick colour', in reference to the color of this grasses leaves.
The landscape architect may find Carex testacea useful as a dynamic ground cover plant and it looks fantastic when planted en mass.. Once established this grass is drought tolerant. It is tolerant of maritime conditions. For best orange color grow in full sun.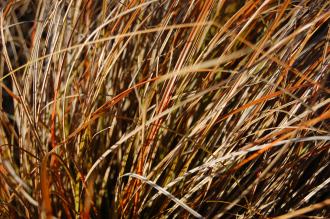 Carex testacea Detail (18/11/2012, Kew Gardens, London)
Ecologically, Carex testacea seeds are attractive to some birds.

Carex testacea prefers moist, fertile, well-drained soils. It tolerates most pH of soil. It will not tolerate wet soils.
Carex testacea requires little maintenance. To keep a tidy appearance this grass may be combed in the winter months to remove dead foliage.