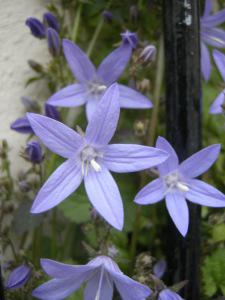 Campanula poscharskyana flower (07/05/2011, London)
Position:  Will flourish in full sun to partial shade.
Soil: Moist and well drained.
Flowering period: Summer.
Eventual Height: 15cm
Eventual Spread:  Indefinite
Hardiness: USDA Zone 3a-9b
Family: Campanulaceae
Campanula poscharskyana is a deciduous perennial with a mat forming habit. Its foliage is rounded, bright green with serrate margins. The monoecious, violet, star-shaped flowers are borne on upturned stems in summer. This plant spreads by underground runners.
C. poscharskyana, commonly known as the Trailing Bellflower, is native to the Dinaric Alps in the former Yugoslavia, although it has been naturalised elsewhere, including central and southern England. The edible leaves of the plant have been used in salads, having a sweet taste but some people believe them to be a bit tough and unpalatable.
Campanula  is derived from the Latin campana meaning 'bell', with poscharskyana being Named for Gustav Poscharsky, a 19th century German gardener.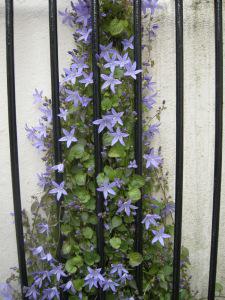 Campanula poscharskyana (07/05/2011, London)
This plant may be useful to the landscape architect as an effective ground-cover in rocky, exposed locations, although full sun during mid day should be avoided. Depending on location this plant may be invasive due to it being spread by underground runners.
The Royal Horticultural Society have given the cultivar Campanula poscharskyana 'Stella' their prestigious Award of Garden Merit.
This plant will tolerate most soil conditions; it will be happy in neutral, acid or alkaline pH levels, or in loam, sand, clay or chalk based and will prefer an exposed location facing an eastern or southern aspect.
Ecologically this plant will attract many pollinating insects such as beetles, flies, lepidoptera  and bees.
Maintenance: little to no maintenance required. This plant may be cut back after flowering to preserve a compact shape.