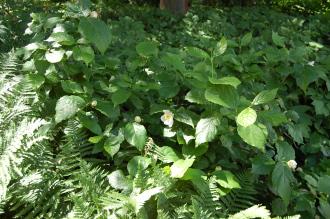 Calycanthus chinensis (23/06/2013, Kew Gardens, London)
Position: Partial shade
Flowering period: Early summer
Soil: Moist, well drained
Eventual Height: 3m
Eventual Spread: 3m
Hardiness: 6a, 6b, 7a, 7b, 8a, 8b, 9a
Family: Calycanthaceae
Calycanthus chinensis is a deciduous shrub with a spreading habit. Its dark green glossy leaves are elliptic with entire margins, up to 10cm long and 5cm broad. Its leaves turn yellow before they fall in autumn. Its white/ pink tinged flowers are up to 7cm across.
Calycanthus chinensis, commonly known as the Chinese Sweetshrub or Chinese Wax Shrub, is native to east China. In its native habitat it grows in dappled woodland shade. Calycanthus chinensis is synonymous with Sinocalycanthus chinensis.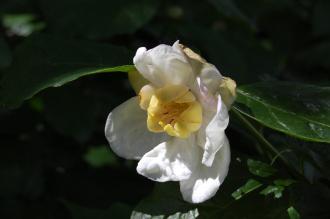 Calycanthus chinensis Flower (23/06/2013, Kew Gardens, London)
The etymological root of the binomial name Calycanthus is derived from the Greek kalyx meaning 'a covering' and anthos meaning ' flower'. Chinensis is derived from the Latin meaning ' from China'.
The landscape architect may find Calycanthus chinensis useful as a woodland understory shrub.
Ecologically, Calycanthus chinensis flowers are pollinated by small beetles.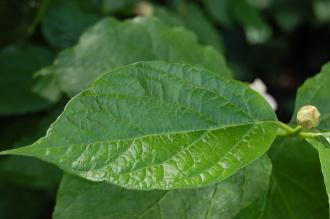 Calycanthus chinensis Leaf (23/06/2013, Kew Gardens, London)
Calycanthus chinensis prefers moist, fertile, well-drained soils. It tolerates most pH of soil. It dislikes dry soils.
Calycanthus chinensis requires little maintenance.