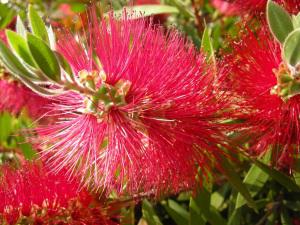 Callistemon citrinus detail (04/06/2011, London)
Position: Flourishes in full sun.
Soil: Moist and well drained.
Flowering period: Summer
Eventual Height: 3m
Eventual Spread: 2.5m
Hardiness: USDA Zone 8a-10b
Family: Myrtaceae
Callistemon citrinus is an evergreen shrub or tree with an open habit. Its foliage is aromatic, linear to lance-shaped and a bright waxy green in colour. It bears bottlebrush-like spikes of hermaphrodite flowers with enlarged red stamens arranged radially around the tips of the flowering stems, followed by dark, tightly spaced small fruit.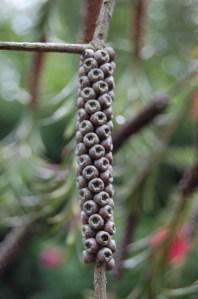 Callistemon citrinus fruiting capsules (18/06/2011, London)
C. citrinus, commonly known as the Crimson Bottlebrush or Lemon Bottlebrush, is native to eastern states of Australia. It has been used to produce dye and firewood and has even been used as a substitute for tea. This plant is the source of the chemical Leptospermone which is an active constituent in the herbicide Callisto
Callistemon is derived from the ancient Greek Kalli meaning 'beautiful' and stamen the pollen producing part of a flower. Citrinus refers to the lemon scent of its foliage when bruised.
The Landscape architect may find this plant useful for its showy flowers and scented leaves (when bruised). A warm sheltered location will ensure this plant flowers prolifically.
The Royal Horticultural Society have given the cultivar Callistemon citrinus 'Splendens' their prestigious Award of Garden Merit.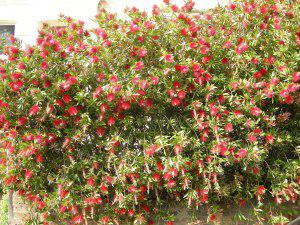 Callistemon citrinus (04/06/2011, London)
This plant will tolerate many soil conditions; it will be happy in acid or neutral pH levels, in loam, sand or clay based soils in a sheltered or exposed location with a west or east facing aspect.
As this plant evolved in Australia and is pollinated principally by honeyeater it is of low ecological value in the UK.
Maintenance: Requires little to no maintenance, dead or damaged material may be removed after flowering.