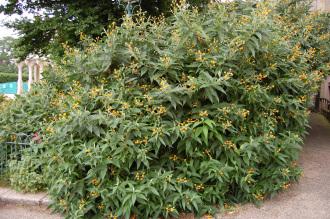 Buddleja globosa (22/06/2013, Brighton)
Position: Full sun to partial shade
Flowering period: Early summer
Soil: Moist, well drained
Eventual Height: 5m
Eventual Spread: 5m
Hardiness: 8a, 8b, 9a, 9b, 10a, 10b
Family: Scrophulariaceae
Buddleja globosa is a semi-evergreen shrub with a bushy rounded habit . Its dark green leaves are lanceolate with entire margins, up to 20cm long and 7cm broad. Its orange fragrant flowers appear in clusters of up to 50 flowers at the branch tips and are up to 2.5cm across. Its fruit are wingless seeds.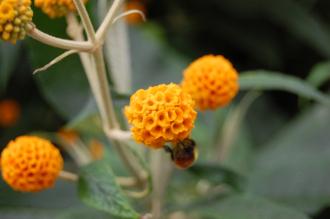 Buddleja globosa Flower (22/06/2013, Brighton)
Buddleja globosa, commonly known as the Orange Ball Tree or Chilean Orange Ball Tree, is native to  Chile and Argentina. In its native habitat it grows in both dry an moist forests.
The etymological root of the binomial name Buddleja is named after Adam Buddle (1662-1715), an English botanist. Globosa is from the Latin meaning 'rounded'.
The landscape architect may find Buddleja globosa useful as a large ornamental shrub. As with all Buddleja's this shrub is very attractive to nectar loving insects and may form a component of a wildlife garden. Once established this shrub is drought tolerant. Unlike Buddleja davidii, Buddleja globosa is not invasive owing to its wingless seeds.
Ecologically, Buddleja globosa flowers are very attractive to nectar loving insects.
The Royal Horticultural Society has given Buddleja globosa their prestigious Award of Garden Merit in 1993.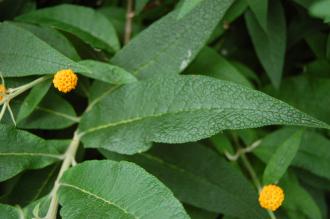 Buddleja globosa Leaf (22/06/2013, Brighton)
Buddleja globosa prefers moist, fertile, well-drained soils. It tolerates most pH of soil.
Buddleja globosa requires little maintenance. Formative pruning should e carried out after flowering.