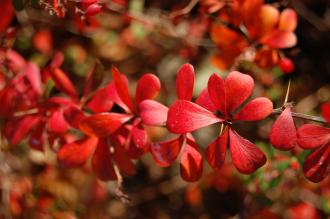 Berberis thunbergii autumn leaf (01/11/2011, London)
Position: Full Sun to partial shade
Flowering period: Springtime
Soil: Well drained
Eventual Height: 2m
Eventual Spread: 3m
Hardiness: USDA Zones 3a-10b
Family: Berberidaceae
Berberis thunbergii is a dense, deciduous, spiny shrub with a bushy habit. It has green to blue green foliage in spring and summer, becoming bright red in autumn. In length they are 12 – 24 mm long and 3 – 15 mm broad and are spatula to oval shaped in appearance. They are produced in clusters of 2 -6 on a dwarf shoot in the axil of each spine, they are often spine toothed. The branches of the plant are deeply grooved, brown with a spine at each shoot node. The pale yellow flowers of the plant are 5 – 8 mm in diameter, produced in drooping 1 – 1.5 centimeter long umbrella shaped clusters of 2 to 5.  The fruit is a glossy bright red, ovoid berry 7 – 10 mm long and 4 – 7 mm broad, each contains a single seed. These berries will persist through the winter months, assuming they are not eaten by birds.
B. thungergii, commonly known as Japanese Barberry, Thunberg's Barberry, Green Berberis and Red Barberry, is native to Japan and eastern Asia. It is widely grown as an ornamental plant, both in Japan and elsewhere in the temperate Northern Hemisphere. Recently this plant has been recognised as an invasive species in the eastern United States. This plant can also raise the pH of the soil and affect soil nitrogen levels. The fruit of this plant is edible.
The etymological root of the binomial name for Berberis is derived from the Arabic  برباريس, the Arabic name for Breberis. The name thunbergii is derived from Carl Peter Thunberg's (1743 – 1828) name, who was a swedish naturalist and doctor of medicine and responsible for sending this plant from Japan to Europe.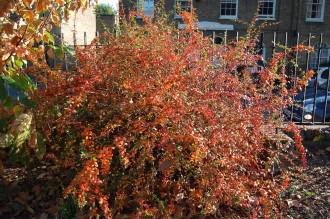 Berberis thunbergii autumn (01/11/2011, London)
The landscape architect may find Berberis thunbergii useful as a ground-cover shrub which flowers, has fantastic autumn color and is good for wildlife. It makes an effective informal or formal impenetrable hedge due to it's vicious spiky branches. It tolerate maritime conditions. 
Ecologically, this plant is attractive to larvae of some of the Lepidoptera species, including the moth and the Mottled Pug and other early insects. The fruit is also attractive to birds.  
Berberis thunbergii  was awarded the prestigious Royal Horticultural Societies annual Award of Garden Merit in 1993.
B. thunbergii will tolerate most soils although it prefers well drained soil with a soil pH of acid to neutral.
Maintenance: This plant requires little maintenance. Hedge pruning should be carried out between July and August.