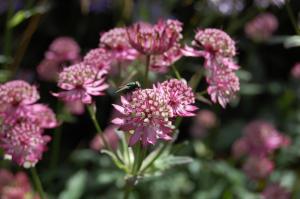 Astrantia major flower (17/09/2011, London)
Position: Full sun to partial shade
Flowering period: Summer to autumn
Soil: Moist
Eventual Height: 60cm
Eventual Spread: 50cm
Hardiness: USDA Zones 5a-9b
Family: Apiaceae
Astrantia major is a deciduous herbaceous perennial with a clump forming habit. The foliage is smooth in texture and forms mid green clump of rounded leaves. The basal leaves a have a long 10-20 centimeter petioles, 3 to 7 lobes and toothed segments. The cauline leaves are generally two, sessile, amplexicaul and lanceolate shaped leaves with a trilobed apex. The stem are erect and glabrous. The flowers are umbrella-shaped, bristly, with a spiky collar beneath. The florets are umbrella shaped, 2-3cm in diameter and are generally pink to white in colour with a fragrant smell. The small flowers on the plant are hemaphrodite while the external ones are male. The petals are 5 and can be white to slightly reddened in colour  The flowering period extends from June to September.
A. major, commonly known as the Great Masterwort, Melancholy Gentleman and Hattie's Pincushion , is native to Europe and Western Asia. This plant was introduced to the British Isles in the 16th century and is now well established in various localities. In its native habitat it is found in mountain meadows, grasslands, forests, clearings and beside streams. This plant can grow up to an altitude of 100-2300 metres above sea level.
The name Astrantia is derived from the Greek aster meaning star referring to the star shaped flower umbels. The name major is derived from the Latin meaning greater.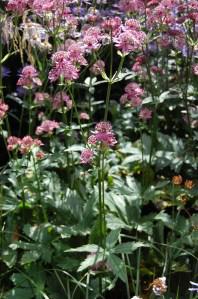 Astrantia major (17/09/2011, London)
The landscape architect may find this plant useful on the banks of riparian planting schemes including lakes an streams. It also would be of use in naturalistic woodland and grassland planting schemes as it is commonly found in these two location in it's natural habitat.
Ecologically this plant is good for beetles (as they pollinate it), and other insects.
This plant prefers calcareous soils with a PH of 6.1-7.8. The plant will tolerate acidic, neutral and alkaline soils. It prefers fertile, moist and humus rich soils, it will survive as long as the soil is reasonably moist and well drained.
Maintenance: This plant requires little maintenance. The flowering stems may be cut back as they start to turn brown to encourage further flowering. Large clumps of this plant may be divided in spring, although they may take some time to establish as they do not like to have their roots disturbed.