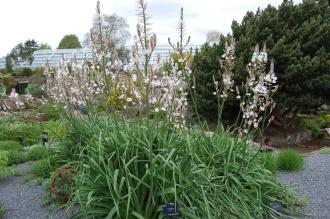 Asphodelus albus (18/05/2013, Kew Gardens, London)
Position: Full sun
Flowering period: Late spring to early summer
Soil: Moist well drained
Eventual Height: 1.2m
Eventual Spread: 50cm
Hardiness: 6a, 6b, 7a, 7b, 8a, 8b, 9a, 9b, 10a, 10b
Family: Xanthorrhoeaceae
Sub Family: Asphodeloideae
Asphodelus albus is a deciduous perennial with a clump forming, tufted habit. Its grey/ green leaves are furrowed and narrowly triangular emerge from the base of the stem, up to 70cm long and 25mm broad. Its white/ pink flowers are up to 4cm across and appear in dense racemes. Its flowers open in a seemingly random order and do not last long. Its fruit are shiny green, egg shaped seed capsules and up to 1cm long. Its roots are fleshy rhizomes.
Asphodelus albus, commonly known as White asphodel or Rimmed Lichen, is native to the Mediterranean area. In its native habitat it grows in meadows and heath lands.
The etymological root of the binomial name Asphodelus is derived from the ancient Greek name for another Asphodel, Asphodelus ramosus. Albus is from the Latin meaning 'white'.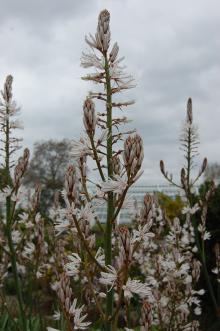 Asphodelus albus Flower (18/05/2013, Kew Gardens, London)
The landscape architect may find Asphodelus albus useful as part of a perennial planting scheme, particularly when planted en mass. It is also suitable for prairie type planting schemes. Once established this perennial will tolerate drought.
Ecologically, Asphodelus albus flowers are attractive to pollinating insects.
Asphodelus albus prefers moist, fertile, well-drained soils. It tolerates most pH of soil. It will tolerate poor soils.
Asphodelus albus requires little maintenance. Large clumps may be divided after flowering.