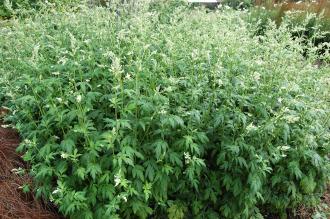 Artemisia lactiflora (27/07/2013, Kew Gardens, London)
Position: Full sun
Flowering period: Late summer to early autumn
Soil: Moist, well drained
Eventual Height: 1.5m
Eventual Spread: 60cm
Hardiness: 4a, 4b, 5a, 5b, 6a, 6b, 7a, 7b, 8a, 8b, 9a
Family: Asteraceae
Artemisia lactiflora is a deciduous herbaceous perennial with an upright, clump forming habit. Its dark green leaves are deep cut with serrate margins, having up to 5 leaflets, are up to 13cm long and 9cm broad. Its leaves are fragrant when crushed. Its white/ cream flowers appear in plumes above its leaves.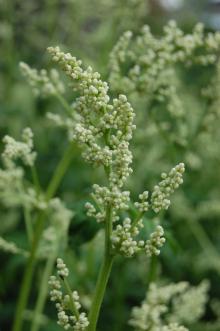 Artemisia lactiflora Flower (27/07/2013, Kew Gardens, London)
Artemisia lactiflora, commonly known as White Mugwort, is native to west China. In its native habitat this plant grows at forest margins and within areas of scrub.
The etymological root of the binomial name Artemisia is named after Artemis, wife of Mausolus and 4th century B.C. ruler of Caria, Asia Minor. Lactiflora is derived from the Latin lactis meaning 'milk' and flora 'the goddess of flowers'.
The landscape architect may find Artemisia lactiflora useful as part of a herbaceous planting scheme.
Ecologically, Artemisia lactiflora flowers are attractive to pollinating insects.
The Royal Horticultural Society has given Artemisia lactiflora their prestigious Award of Garden Merit in 1993.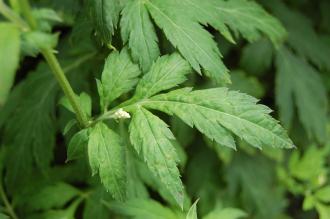 Artemisia lactiflora Leaf (27/07/2013, Kew Gardens, London)
Artemisia lactiflora prefers moist, fertile, well-drained soils. It tolerates most pH of soil. Plants grown in poor soils are tougher than those grown damp.
Artemisia lactiflora requires little maintenance. Large clumps may be divided in late summer.