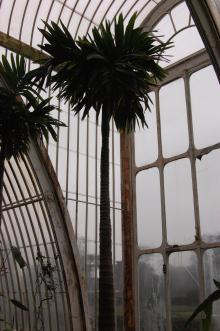 Areca catechu (23/03/2013, Kew Gardens, London)
Position: Full sun
Flowering period: All year round
Soil: Moist, well drained
Eventual Height: 20m
Eventual Spread: 3m
Hardiness: 13
Family: Arecaceae
Areca catechu is an upright evergreen palm tree with a slender upright trunk. Its mid green leaves are pinnnate, up to 2m long and are composed of up to 50 leaflets. Its leaflets are lanceolate, up to 70 cm long and 7cm broad. Its trunk may achieve a diameter of up to 30cm. Its bark is light gray and ringed. Its white fragrant monoecious flowers appear on multi branched panicles from the leaf axils. Its red/ orange/ yellow fruit is an ovoid drupe, are up to 5cm long and 3cm broad.
Areca catechu, commonly known as the Betel Nut Palm, Betel Tree or Areca Palm, is believed to be native to Malaysia or Philippines. It is now grown in much of tropical Pacific, Asia and parts of east Africa. This palm is grown for its seeds or 'nuts' which are chewed as a narcotic.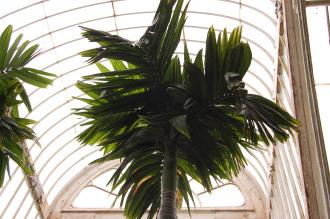 Areca catechu Leaf (23/03/2013, Kew Gardens, London)
The etymological root of the binomial name Areca is derived from the Malay aekka, a name for this palm. Catechu is derived from the Hindi name for an extract from this palm used for tanning.
The landscape architect may find Areca catechu useful as an attractive upright palm for a tropical climate.
Ecologically, Areca catechu flowers are attractive to pollinating insects.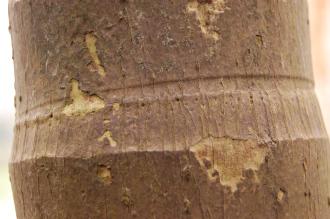 Areca catechu Bark (23/03/2013, Kew Gardens, London)
Areca catechu prefers moist, fertile, well-drained soils. It tolerates most pH of soil. It will not tolerate dry soils and dislikes waterlogged soils.
Areca catechu requires little maintenance.