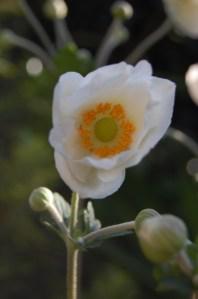 Anemone × hybrida 'Honorine Jobert' flower (06/08/2011, London)
Position: Sun to partial shade
Soil: Moist, well drained soil
Flowering period: Summer and autumn
Eventual Height: 1.5m
Eventual Spread: 60cm
Hardiness: USDA Zone 4a-9b
Family: Ranunculaceae
Anemone × hybrida 'Honorine Jobert' is a deciduous herbaceous perennial with a clump forming habit. Its foliage is dark green and deeply divided. In late summer to early autumn it bears shallowly cup shaped, terminal, hermaphroditic, pure white single flowers with yellow stamens.
Anemone × hybrida is commonly known as the Windflower and the Chinese or Japanese anemone. It is a cross between Anemone hupehensis var. japonica and Anemone vitifolia.  Anemone × hybrida 'Honorine Jobert'  has been around for about 150 years, it was a sport from Anemone x hybrida, which was raised at the Royal Horticultural Society's garden at Chiswick in 1848.
Anemone may be a derivation of the Hebrew word for Adonis, with × hybrida being a Latinised botanical term meaning that this plant is a cross between two established species.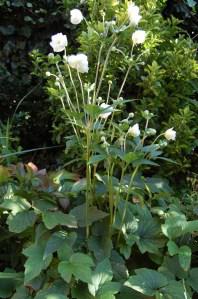 Anemone × hybrida 'Honorine Jobert' (06/08/2011, London)
The landscape architect may find this plant useful as a late sumer flowering, low maintenance herbaceous perennial. It looks good when planted en mass and is suitable for prairie style planting. Although this plant will tolerate full sun it prefers dappled shade.
The royal horticultural society gave this plant their prestigious Award of Garden Merit in 1993.
This plant will tolerate almost any soil conditions; it will be happy at neutral, alkaline or acid pH levels, in loam, clay, chalk or sand based soils, facing any sheltered or exposed aspect
Ecologically this plant will attract various species of pollinating insects such as honey bees and butterflies. Various species of terrestrial gastropod along the with the larval stage of some species of lepidoptera will feed on its foliage.
Maintenance: This plant requires little to no maintenance. It may be cut back in autumn. Large clumps of this plant may be divided in March or April with greater or lesser degrees of success.