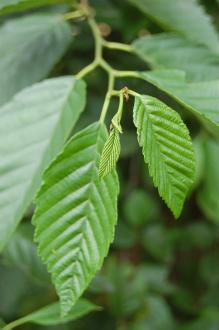 Alnus rubra Leaf (28/07/2012, Kew Gardens, London)
Position: Full sun
Flowering period: Early spring
Soil: Moist, well drained
Eventual Height: 30m
Eventual Spread: 10m
Hardiness: 5a – 9b
Family: Betulaceae
Alnus rubra is a medium sized, vigorous, deciduous tree with a broadly pyramidal crown. Its dark green leaves are alternate, ovate with bluntly serrate margins and a pointed tip and up to 15cm long. Its leaves turn yellow in autumn before they fall. Its branches. Its trunk. Its smooth bark is mottled and light gray. Its flowers are monoecious, the male being a hanging red catkin which is up to 15cm long. The female flowers are erect catkins which develop into cone like fruit which are up to 3cm long. Its roots form an association which enable them to fix nitrogen in the soil.
Alnus rubra, commonly known as the Red Alder, is native to western United States. In its native habitat it usually grows along watercourses and wetlands.
The etymological root of the binomial name for Alnus is the old Latin name for Alder trees. Rubra is from the Latin meaning 'red' in reference to the color of its inner bark.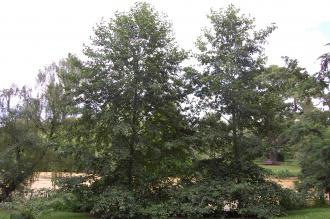 Alnus rubra (28/07/2012, Kew Gardens, London)
The landscape architect may find Alnus rubra useful as a tree for nutrient poor soils such as mine spoil sites. It is also suitable for wet sites and stream margins and is useful in SUDS schemes. Care should be taken when locating this tree as its roots may invade drainage runs.
Ecologically, A. rubra is attractive to some birds who eat its seed.
A. rubra prefers moist, fertile, well-drained soils. It tolerates most pH of soil. It will tolerate wet soils. It is able to grow in nutrient poor soils
Alnus rubra requires little maintenance.