Position: Flourishes in full sun to partial shade.
Soil: Moist but well drained.
Flowering period: Late spring to early autumn.
Eventual Height: 30cm
Eventual Spread: 20cm
Hardiness: USDA Zone 3a-8b
Family: Rosaceae
Alchemilla mollis, commonly known as Lady's Mantle,  is a herbaceous perennial with a clump forming habit. It has rounded, shallowly lobed, sharply toothed, bluish green leaves. It bears cymes of yellowish green flowers in late spring.
Native to southern Europe A. mollis was once favoured by alchemists for the dew collected by its leaves. The repellent nature of the foliage creates glistening beads of water that they believed was the purest form of water and used it in their never ending quest to turn base metals into gold.
The name Alchemilla was in reference to this plant being prised by alchemists, with mollis meaning 'soft' in the Latin.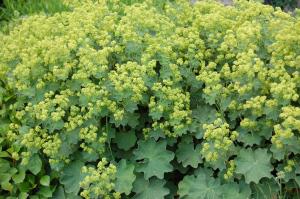 Alchemilla mollis (14/05/2011, Paris)
To the landscape architect this plant is useful as an effective, attractive ground cover.
This plant will tolerate almost any soil conditions; it will be happy in acid, neutral or alkaline pH levels, in loam, sand, clay or chalk and facing any aspect in a sheltered or exposed location.
Ecologically it is valuable as it attracts bees and other nectar loving insects during it flowering period.
The Royal Horticultural Society have given it their prestigious Award of Garden Merit.
Maintenance: Once the foliage becomes untidy, from late summer onwards, it may be cut back to encourage new growth.