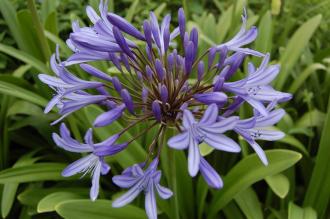 Agapanthus praecox Flower (28/07/2012, Kew Gardens, London)
Position: Full sun
Flowering period: Summer
Soil: Moist, well drained
Eventual Height: 1m
Eventual Spread: 60cm
Hardiness: 8a – 10b
Family: Amaryllidaceae
Agapanthus praecox is an evergreen, clump forming herbaceous perennial. Its mid green leaves are strap like, are variable and appear in groups of up to 20 per plant. Its blue flowers are umbellata and appear on a stalk above the leaves. Its fruit are a three sided capsule which contain black shiny seeds which readily germinate. Its roots are rhizomes which aids its spread.
Agapanthus praecox, commonly known as the Common Agapanthus, African Lilly, Lilly of the Nile or Blue Lilly, is native to South Africa. The planting and distribution of the plant is prohibited in New Zealand. The leaves, sap and rhizomes of this plant are toxic to humans.
The etymological root of the binomial name Agapanthus is derived from the Greek agap meaning 'love' and anthos meaning 'flower'. Praecox is from the Latin meaning 'premature'.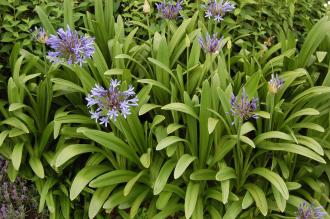 Agapanthus praecox (28/07/2012, Kew Gardens, London)
The landscape architect may find  Agapanthus praecox useful as part of a herbaceous or prairie type planting scheme, particularly in maritime locations. It looks fantastic when planted en mass. Care should be taken when locating this plant due to its potentially toxic nature.
Ecologically, A. praecox is attractive to pollinating insects.
A. praecox prefers moist, fertile, well-drained soils. It tolerates most pH of soil. It will tolerate poor soils.
Agapanthus praecox requires little maintenance. Large clumps should be divided every four years, just after flowering.