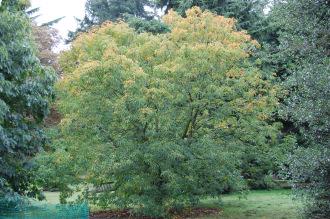 Aesculus glabra Autumn (21/09/2013, Kew Gardens, London)
Position: Full sun to partial shade
Flowering period: Spring
Soil: Moist, well drained
Eventual Height: 25m
Eventual Spread: 20m
Hardiness: 3b, 4a, 4b, 5a, 5b, 6a, 6b, 7a, 7b, 8a, 8b
Family: Sapindaceae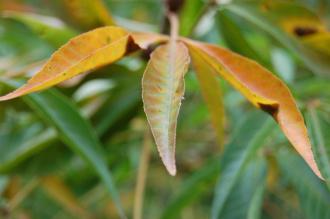 Aesculus glabra Autumn Leaf (21/09/2013, Kew Gardens, London)
Aesculus glabra is a deciduous tree with a rounded habit. Its mid green leaves are palmately compound with five leaflets. Its leaflets are up obovate with serrate margins, to 15cm long and 7cm broad. Its leaves smell unpleasant when crushed. Its leaves may turn yellow/ orange/ red  before they fall in autumn. Its yellow/ green flowers are up to 3cm long and are produced in panicles which are up to 20cm long. Its fruit is a round spiny capsule, up to 5cm across and contains up to 3 seeds.
Aesculus glabra, commonly known as Ohio Buckeye, American Buckeye, or Fetid Buckeye, is native to central USA. In its native habitat it grows in rich or rocky deciduous forests. Its seeds are poisonous to cattle and humans if ingested.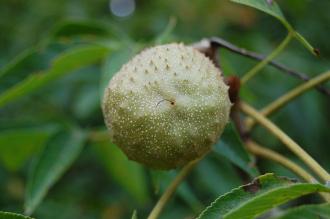 Aesculus glabra Autumn Fruit (21/09/2013, Kew Gardens, London)
The etymological root of the binomial name Aesculus is from the ancient Latin name for the Horse Chestnut (Aesculus hippocastanum). Glabra is from the Latin meaning 'hairless'.
The landscape architect may find Aesculus glabra useful as an attractive specimen tree. Care should be taken when location this tree due to it potentially toxic nature.
Ecologically, Aesculus glabra flowers are attractive to pollinating insects.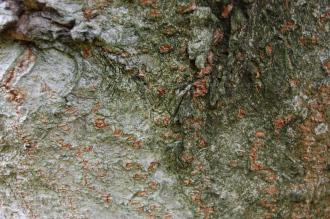 Aesculus glabra Bark (21/09/2013, Kew Gardens, London)
Aesculus glabra prefers moist, deep, well-drained soils. It tolerates most pH of soil.
Aesculus glabra requires little maintenance.