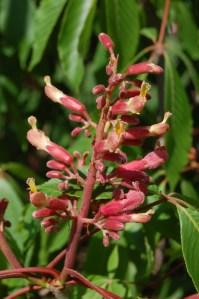 Aescullus flava flower (22/04/2011, Kew Gardens, London)
Position: Flourishes in full sun to partial shade.
Soil: Moist but well drained.
Flowering period: Late spring to early summer.
Eventual Height: 25m
Eventual Spread: 15m
Hardiness: USDA Zone 4a-9a
Family: Sapindaceae
Aesculus flava is a deciduous tree with a broadly conical habit. It has palmate, glossy, dark green leaves composed of 5 to 7 ovate to obovate leaflets. In late spring to early summer it bears upright conical panicles of yellow flowers that open from pink buds. A smooth skinned fruit follows these.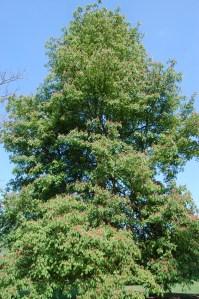 Aescullus flava (22/04/2011, Kew Gardens, London)
Aesculus flava, commonly known as Yellow Buckeye, it is native to the Eastern United States in the Appalachian Mountains and the Ohio Valley. Although the fruit in its raw state is poisonous it can be made edible; the Native Americans roasted the nuts among hot stones, peeled, mashed, and leached them with water for several days before eating them. Aesculus flava is synonymous with Aesculus octandra.
The etymological root of the binomial name Aesculus is the ancient Latin name for the Horse chestnut, with flava also being Latin, meaning 'yellow'.
The landscape architect may find Aesculus flava is useful as a specimen tree, particularly in the city environment due to its tolerance of air pollution. Its foliage will remain clear of the pathogens that befall many other members of the Aesculus genus. It will and will provide showy swaths of flowers in late spring to early summer
and the leaves turn yellow in autumn.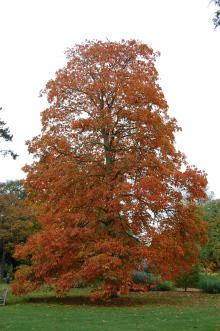 Aesculus flava Autumn (20/10/2012, Kew Gardens, London)
Aesculus flava prefers an acidic soil and will not grow well in poor soils, such as clay, dry or polluted. However, it will tolerate urban stresses better than most other members of the genus, such as the Horse chestnut and is somewhat tolerant of neutral to alkaline pH.
Ecologically, Aesculus flava will attract pollinating insects such as bees that will feed on its nectar. The fruit are not noted to be eaten by animals due to their toxicity but there are some reports of certain animals eating them occasionally, such as squirrels.
The Royal Horticultural Society have given Aesculus flava their prestigious Award of Garden Merit.
Aesculus flava requires little care, dead or damaged material should be removed at the end of winter.