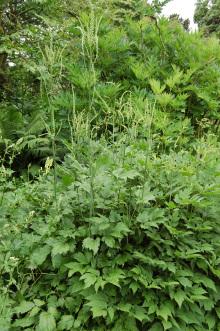 Actaea racemosa (23/06/2013, Kew Gardens, London)
Position: Partial shade
Flowering period: Summer
Soil: Moist, well drained 
Eventual Height: 60cm (flowers 2.5m)
Eventual Spread: 50cm
Hardiness: 4a, 4b, 5a, 5b,6a, 6b, 7a, 7b, 8a, 8b, 9a
Family: Ranunculaceae
Actaea racemosa is a deciduous herbaceous perennial with a clump forming habit. Its mid green leaves are tripinnately compound with coarsely serrate margins and up to 1m long. The white flowers have no petals or sepals and consist of tight clusters of long stamens surrounding a white stigma and are produced on a tall flower spikes. The fruit is a dry follicle, up to 10mm long containing several seeds and one carpel. Its roots are rhizome.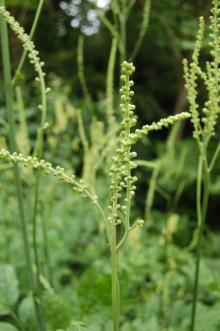 Actaea racemosa Flower Buds (23/06/2013, Kew Gardens, London)
Actaea racemosa, commonly known as Black Snakeroot, Black Bugbane, Black Cohosh and Fairy Candle, native to central and east USA ans south central Canada. In its native habitat it grows in woodland glades. This plant was introduced into the UK in 1732 by John Bartram. Actaea racemosa is synonymous with Cimicifuga racemosa.
The etymological root of the binomial name Actaea is derived from the Greek Actaia meaning 'Elder, in reference to its leaves. Racemosa is derived from the Latin meaning 'flowers in racemes'.
The landscape architect may find Actaea racemosa useful as part of a woodland planting scheme. It may also be used as part of a herbaceous planting scheme.
Ecologically, Actaea racemosa is attractive to flies, beetles, bees, birds and gnats due to its fetid smell.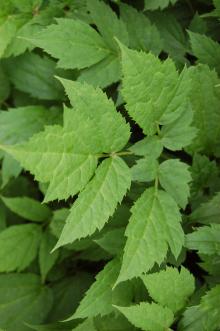 Actaea racemosa Leaf (23/06/2013, Kew Gardens, London)
The Royal Horticultural Society has given Actaea racemosa their prestigious Award of Garden Merit in 1993.
Actaea racemosa prefers moist, humus rich, well-drained soils. It tolerates most pH of soil.
Actaea racemosa requires little to no maintenance. It may be cut back in late autumn after flowering and fruiting. Large clumps may be divided in spring.