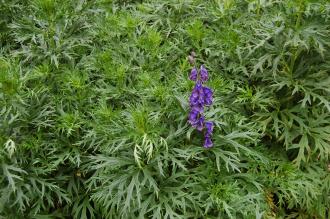 Aconitum napellus (18/05/2013, Kew Gardens, London)
Position: Partial shade
Flowering period: Summer
Soil: Moist, well drained
Eventual Height: 1.5m
Eventual Spread: 30cm
Hardiness: 4b, 5a, 5b, 6a, 6b, 7a, 7b, 8a, 8b, 9a, 9b
Family: Ranunculaceae
 Aconitum napellus is a deciduous, herbaceous perennial with an erect, clump forming habit. Its glossy dark green leaves are rounded, palmate, deeply lobed with up to 7 segments and up to 7cm across. Its dark purple/ blue flowers appear in the shape of hoods and are up to 2cm tall. Its roots are tubers which aids is spread.
The species  Aconitum napellus, commonly known as Wolfsbane, Monkshood, Aconite, is native to west and central Europe. In its native habitat it grows in damp shady places including woodland edges and species rich meadows. All parts of this plant are extremely toxic.
The etymological root of the binomial name Aconitum is from the ancient Greek name for this plant and is loosely translated as 'unconquerable poison'. Napellus is derived from the Latin napus meaning 'turnip', referring to the shape of the root.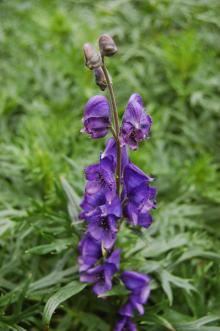 Aconitum napellus Flower (18/05/2013, Kew Gardens, London)
The landscape architect may find Aconitum napellus useful as part of a woodland planting scheme. It is also suitable for use as part of a mixed herbaceous planting scheme. Care should be taken when locating this plant due to its poisonous nature, including via skin.
Ecologically,  Aconitum napellus flowers are attractive to pollinating insects.

 Aconitum napellus prefers moist, fertile, well-drained soils. It tolerates most pH of soil. It will not tolerate dry soils.
 Aconitum napellus requires little maintenance. To keep a tidy appearance old flowering stems may be removed in spring. Large clumps may be divided in late autumn.