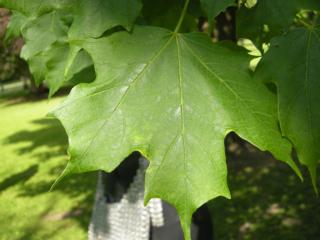 Acer saccharum Leaf (17/05/2012, Prague, Czech Republic)
Position: Full sun to partial shade
Flowering period: Early spring
Soil: Moist, well drained
Eventual Height: 30m
Eventual Spread: 15m
Hardiness: 3a – 9a
Family: Sapindaceae
Acer saccharum is a large, fast growing, deciduous tree. Its mid green leaves are opposite, palmate with entire margins, has five lobes and are up to 12cm long and 12cm wide. Before the leaves fall in autumn they turn yellow/ orange/ deep red. Its bark is grey/ brown with a rough texture and deeply furrowed with age. Its small yellow/ green flowers are corymbs,  and appear before the leaves. Its fruit is a samara, two winged seed.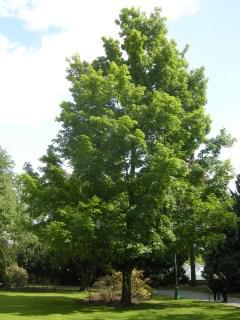 Acer saccharum (17/05/2012, Prague, Czech Republic)
Acer saccharum, commonly known as Sugar Maple, Hard Maple, Rock Maple, Sugartree or Bird's-eye Maple, is native to northeast North America. In its native habitat it is found in woodlands and often forms single species stands. It is the primary source of Maple syrup. A red leaf of this tree features on the Canadian flag.
The etymology of the binomial name Acer is derived from the classical Latin name for the Maple. Saccharum is from the Latin meaning 'sugar', referring to the sap of this tree.
The landscape architect may find Acer saccharum useful as a large street tree, particularly in shady locations. This tree is tolerant of urban atmospheric polluted, although it dislike road salt.
Ecologically, A. saccharum is a source of early pollen for bees and other pollinating insects. It also provides a source of food for squirrels and other mammals in the form of its seeds.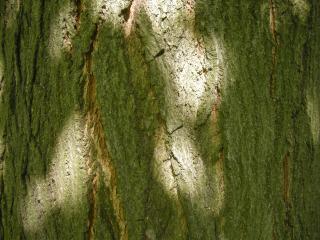 Acer saccharum Bark (17/05/2012, Prague, Czech Republic)
A. saccharum prefers moist, deep, well-drained soils. It tolerates most pH of soil.Its autumn leaf color is brighter if the soil is sightly acidic. It will not tolerate waterlogged soils and dislikes dry soils.
Acer saccharum requires little maintenance.