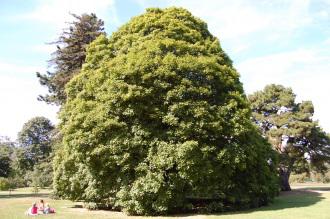 Acer opalus (08/09/2012, Kew Gardens, London)
Position: Full sun
Flowering period: Early spring
Soil: Moist, well drained
Eventual Height: 20m
Eventual Spread: 15m
Hardiness: 5a – 9a
Family: Sapindaceae
Acer opalus is a medium sized deciduous tree. Its mid green glossy leaves are palmate with 5 lobes and blunt teeth, up to 13cm long and 16cm across. Its leaves turn pink/ yellow before they fall in autumn. Its branches. Its trunk may achieve a diameter of 1m. Its bark. Its yellow flowers are small, hang down in bunches and appear before leaf burst. Its fruit is a pair of winged sumara which are up to 3.5cm long.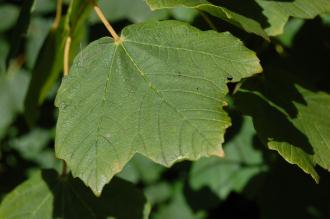 Acer opalus Leaf (08/09/2012, Kew Gardens, London)
Acer opalus, commonly known as the Italian Maple or Bosnian Maple, is native to south and west Europe and north west Africa. It was introduced into the UK in 1752.
The etymological root of the binomial name Acer from the Latin meaning 'sharp', in reference to the classical roman use of the genus to make spears. Opalus is derived from the Latin opulus, a type of Maple, in reference to the shape of this shrub's leaves.
The landscape architect may find Acer opalus useful as an attractive parkland tree, with its early flowers and autumn leaf color.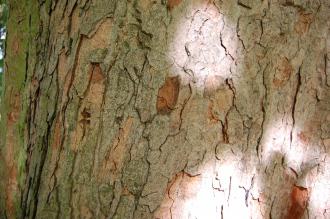 Acer opalus Bark (08/09/2012, Kew Gardens, London)
Ecologically, Acer opalus seeds are attractive to some mammals and birds.
Acer opalus prefers moist, fertile, well-drained soils. It tolerates most pH of soil. It will not tolerate drought conditions.
Acer opalus requires little maintenance.