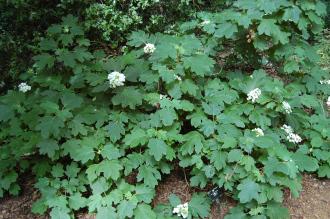 Hydrangea quercifolia (27/07/2013, Kew Gardens, London)
Position: Full sun to dappled shade
Flowering period: Summer
Soil: Moist, well drained
Eventual Height: 2m
Eventual Spread: 2m
Hardiness: 5a, 5b, 6a, 6b, 7a, 7b, 8a, 8b, 9a, 9b
Family: Hydrangeaceae
Hydrangea quercifolia is a deciduous shrub with a spreading, bushy habit. Its dark green leaves are deeply  lobed with mildly serrate margins, up to 30cm long and 25cm broad. Its tan/ orange bark peels in flakes. Its leaves turn red/ orange/ yellow in autumn before they fall. Its white/ cream flowers appear as a terminal conical panicles, are up to 30cm long and 12cm broad. Its roots form stolons which aids its spread.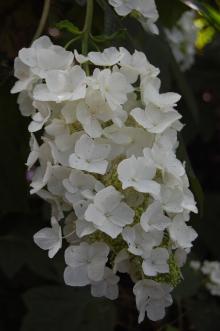 Hydrangea quercifolia Flower (27/07/2013, Kew Gardens, London)
Hydrangea quercifolia, commonly known as the Oakleaf Hydrangea or Oak Leaved Hydrangea, is native to the southeast of the USA. In its native habitat it grows in mixed hardwood forests and thickets as an understory shrub.
The etymological root of the binomial name Hydrangea is derived from the Greek hydor meaning 'water' and aggos meaning 'jar' which refers to the plants cusp shaped fruit. Quercifolia is derived from the Latin quercus the binomial name for the Oak and folium meaning 'leaf'
The landscape architect may find Hydrangea quercifolia useful summer flowering ground cover shrub with interesting autumn leaf colour, suitable for shady locations. This Hydrangea quercifolia is more tolerant of dry soils than most other Hydrangeas.
Ecologically, Hydrangea quercifolia flowers are attractive to pollinating insects.
The Royal Horticultural Society has given the varieties Hydrangea quercifolia 'Flemygea' and Hydrangea quercifolia 'Brido' their prestigious Award of Garden Merit in 2012.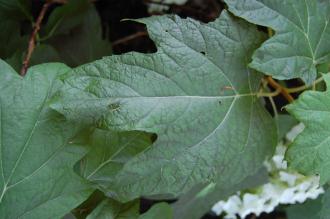 Hydrangea quercifolia Leaf (27/07/2013, Kew Gardens, London)
Hydrangea quercifolia prefers moist, rich, fertile, well-drained soils. It prefers a neutral to acid pH of soil.
Hydrangea quercifolia requires little maintenance. Damaged stems may be removed in early spring.