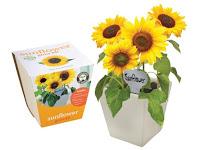 This business consists in the formation of simple kits, packages with everything necessary for the growth of a plant, more precisely such a kit contains: pot, soil, seeds, fertilizer, instruction manual. Thus a combination of common products form a new product for many categories of people: exotic plants enthusiasts, spices for housewives or educational kits for children.
    The range of plants that can be marketed in this way is very wide: exotic spices, vegetables miniature (chili, tomatoes, etc.), fruits, flowers, herbs, bonsai, mushrooms, various species of cactus.
     Such growing kits sell for prices between 10-30 euro / pcs. Not a huge amount, but for such a kit is investing between 3-7 euro (so at least triple the amount invested) and the investment may decrease depending on how we choose the sources of buying of materials.
    This business requires a good research, passion is a very big advantage. Before you build a kit, you have to know everything that is necessary for plant growth, the number of necessary seeds, soil type, the number of day watering, light, etc.
     A personal opinion would be to focus on plants less common, on the exotic plants or plants that are hard to find in stores. Carnivorous plants appear to be in great demand.
     To promote your product choose an online store site, classifieds or direct sales stores.
   It's a simple business, easily home based business, a PC, an symbolic investment, research and imagination are all the things you need.