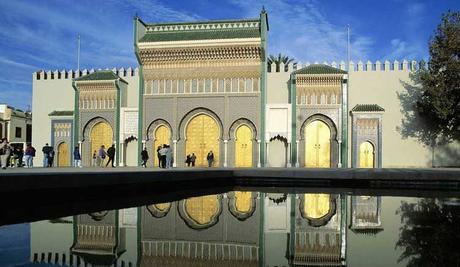 This is a guest post about planning a trip to Morocco and specifically the city of Fes by Lena Hart a friend of mine and an extensive traveller. - Enjoy.
Morocco has always been on my bucket list of countries I want to visit. As a little girl, I was obsessed with a cooking show on TV, and one day the contestants of the show visited a Moroccan market. I was intrigued. The language and colours, the fabrics, the spices that I could almost smell through our television... It has been a dream ever since.
Fes is a beautiful medieval city in Northeastern Morocco. The country is several millennia old and has been inhibited by human predecessors for at least 400,000 years. Fes is one of its largest cities, with a population of well over 1.1 million. With nicknames like 'the Athens of Africa' and 'the Mecca of the West', you may want to see for yourself what the fuss is about. This article will give you a quick preview, and perhaps persuade you to buy a plane ticket to Africa or at least think about visiting Fes when planning a trip to Morocco.
Getting Around Fes
Fes is a medieval city, with much of its historical infrastructure still intact. Essentially it is made up out of three main neighbourhoods, and surrounded by suburbs. Fes El Bali is the old part of town, and the area most frequently visited by tourists. The neighbourhood is on UNESCO's World Heritage list and is also the largest urban area in the world to be car-free. Narrow streets, children playing and donkeys carrying freight just like it has been for centuries and centuries (a reason in itself to think about Fes when planning a trip to Morocco). Fes El Jdid is the New Fes. It was 'only' built in the 13th century, and streets are noticeably wider. The Royal Palace is one of the main sights, together with multiple mosques and gates. The Ville Nouvelle is the French-built, newer part of town. This area has the least to offer historically, but many modern shops and restaurants still make it attractive. The young feel of this neighbourhood is also due to the many university students that reside here. The streets are wide and tree-lined, with pleasing-to-the-eye fountains.
Although Fes does have basic public transportation like buses, trains, and taxis, much of the charm of the city is best discovered by foot. Part of the fun is getting lost in the maze of little streets in the medina - which you almost certainly will. Locals can, however, point you in the right direction, and the thing is, if you walk long enough, you eventually hit the city gates.
Eating, Sleeping and Shopping in Fes
Staying in Fes can be as cheap or as expensive as you choose. Premium hotels might cost you $200 a night - although in that case you probably will be treated like a king or queen. Consider staying in a riad, a guesthouse. Usually, the hosts are very hospitable and will offer you Morocco's well-known mint tea for free at any given time. The costs of staying in a riad are often also substantially lower than booking a hotel.
When planning a trip to Morocco, and you're tossing up Fes and another city, remember that Fes is now also considered the culinary capital of the country. The street food here can be slightly adventurous - but in the best possible way (but still be careful as getting sick overseas can really suck). Men sit behind their carts of produce and mint, women dish out plates of goodness, and just taking a stroll through the rows and rows of stalls of vendors, is an outing in itself. Think sacks filled with fragrant spices, bowls overflowing with olives and dates, and tons of delicious sweet pastries. Lots of restaurants try to combine the ancient Moroccan recipes with new techniques and fuse them with influences from other cultures. If you are a true food-lover though, taking a cooking class to learn how to cook a real tajine, should be on your to-do list.
Shopping in Fes can mean different things. Fes El Bali has a huge amount of vendors selling traditional woodwork, fabric (carpets!) and pottery. Beware that you in most cases will not be able to use your credit card here, it is cash only. More contemporary shops have been on the rise though, as some international designers have declared Fes their home. Find anything from leatherwork to bedding, and keep an eye out for antiques. - Just a note that many scams in Morocco work much the same way as Istanbul Scams do - I wrote a post about what do do if you're the victom of scams in Turkey that is somewhat applicable here too.
Make sure you visit Fes if you're planning a trip to Morocco
If you still need convincing that you should visit Fes if you're planning a trip to Morocco, let me give you a few reasons: Every June, Moroccan and international artists gather in Fes for the Sacred Music Festival. The concerts are held in intimate courtyards. which gives them a unique edge. Some performances are even free. Of course, there is plenty to do the rest of the year too. Café Clock was named after Dar al-Magana, a nearby house with a built-in water clock. The terraces and rooms are used for anything from film screenings to cooking lessons to beginning Arabic classes. It is a great place to socialize and sit down for some traditional Moroccan couscous.
Finally, end your trip with a visit to a local hammam. Not only are these bathhouses relatively cheap, but they are the perfect way to relax and forget about life at home before you leave this wonderful city.
About the Author: This article was written by Lena Hart, savvy travel blogger at asabbatical.com , a personal travel blog of Adrian Sameli.
For more travel stories visit the Nomadical Sabbatical homepage or instead read about how to quit your job and long term travel.