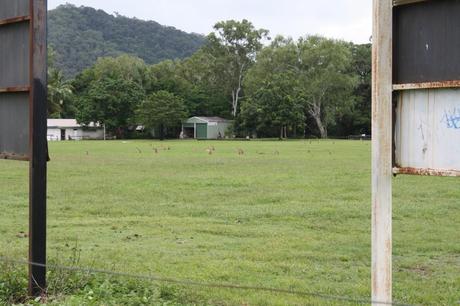 Yes, those are little kangaroos! We spotted these joeys on the way to Port Douglas. I like to think of this as kangaroo school in session.
Before this month, I didn't even know what city one would fly into to visit the Great Barrier Reef. Once I figured it out, the question was: stay in Cairns, or venture up to Port Douglas? Cairns is cheap and cheerful but lacks a decent beach; Port Douglas is nice but expensive – and, as I suspected, turned out to be a little dull. Once I figured out it would be smartest for us to hire a car, the choice was made: have it both ways with two days in Cairns city and two in Port Douglas township.
(I scrapped trying to fit in the Whitsundays – expensive, and more of a sailing than a snorkelling destination – and stopovers in Sydney/Melbourne/Gold Coast, due to time and money.)
Here are fun things we did that I would wholeheartedly recommend:
In Cairns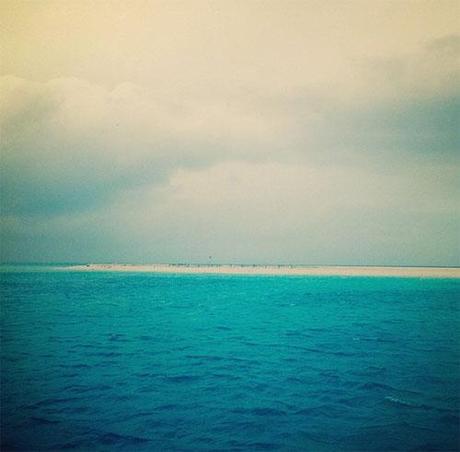 Great Barrier Reef tour – Seastar Cruises
Seastar may not be the cheapest Great Barrier Reef tour operator but neither are they the most expensive – and they are highly, highly rated on Tripadvisor. We chose Seastar for the small numbers and good reviews and did not regret it. They include everything you might need (even optical snorkel masks don't cost extra) and take a bunch of photos throughout the day that get posted up on Facebook straight after, too. The staff are super friendly, the food is simple and tasty and it was a fun day all around.
The only downside was the rough weather. I highly recommend buying seasickness pills for $3 onboard. Thankfully, I did not throw up, but it was a close call towards the end, even with the meds. Having ticked this off my life list, I think I'm well and truly done with all water-based activities; I am just too prone to motion illness. By the time we got out to Michaelmas Cay (Seastar is one of the few operators that go there) I was not feeling at all happy about being out at sea – and knew for sure I had made the right choice to stick to snorkelling rather than trying diving. The current was pretty strong – way more intense waves than any I'd ever snorkelled in before – and I spent most of the time following our snorkel group around trying to tamp down the rising panic and breathe slowly. We did see some cool fish and T enjoyed his introductory dive, where he got to see a moray eel, giant clam and touch a sea cucumber. (These do cost more – $75 for the first dive, $45 for the second.)
Our second stop at the outer reef was at Hastings Reef – not as picturesque as Michaelmas Cay from the surface, but way cooler underwater. The current was a lot calmer, the coral was closer to the surface – and most importantly, we saw a turtle!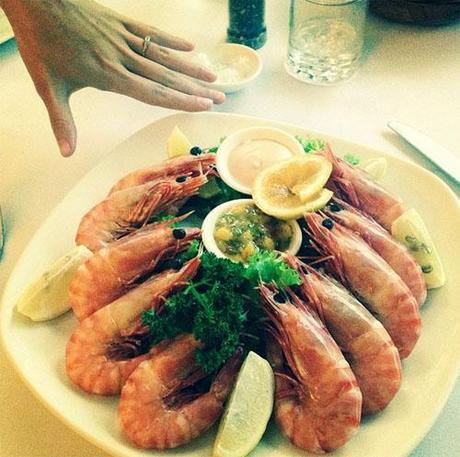 Seafood – Barnacle Bills
The sheer amount of dining options in Cairns is a tad boggling. T spotted an earlybird special at Barnacle Bills (order between 5-6pm and get 25% off) and I was sold. And what do you know – it turned out to be an all around stellar meal. Our dishes were huge and while nothing fancy, were perfectly executed. The salsa garlic bread appetizer was a standout: fresh but avoided falling into the soggy trap. The barramundi was beautifully seasoned with a healthy side of beans and potatoes. And you really can't go wrong with Aussie size prawns. We loved them so much that in Port Douglas we went and bought some more prawns from the supermarket and cooked them up at our Airbnb rental. DIY seafood is a great option on a super tight budget.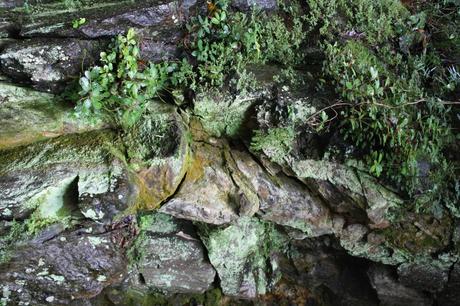 Greenery and swimming holes – Crystal Cascades
You will need a car to get to the Cascades! It's about 20 minutes drive from Cairns central. Head north to Redlynch then follow the signs for Crystal Cascades. It's an easy paved walk through the rainforest and there are spots to swim amongst the huge boulders in the river. You might spot a few birds or other wildlife while you're at it. If you don't have a car, the Botanic Gardens in Cairns are a nice naturey alternative, sans swimming holes.
In Port Douglas
Chips at Dave's Takeaway
We stumbled across Dave's while strolling Macrossan St – the main drag. It's cheap, but it's also freaking awesome. Great burgers and the best chips I've had in a long time – delightfully crisp and just salty enough.

Mossman Gorge
The Mossman Gorge offers a free peek into the World Heritage-listed Daintree Rainforest. T bitched and moaned about walking the 2km from the carpark/visitor center to the gorge, but at $8.50 a pop the shuttle bus fare was a bit steep for my liking. There's a spot to swim and a few other places to get your feet wet but overall the idea is to walk the circuit trail through the forest. Not super exciting in my books to be honest, but no regrets.

Free Wednesday sunset sail from the yacht club
While we didn't wind up going (probably a good thing; we popped down to the waterfront a little later on and saw the boats setting out and the seas were a little choppy) I had fully intended on doing this and had blocked out time for it!
The basic idea is that you turn up at the yacht club at 4pm and if you're lucky you might get to go along for a free evening  sail with a local skipper. Probably nice to buy them a beer in exchange.
Sailing at the Yacht Club
– on Wednesday afternoon. Previously known as WAGS (Wednesday afternoon gentlemen sailing), now also known as WAGLS (Wednesday afternoon Gentlemen and Ladies Sailing) minimum age for participants is 18. This is a free sail. Arrive at The Yacht Club by 4.00pm sign in and a skipper will personally ask you to join their team on their private yacht for a sail. – See more at: http://www.tropicaltours.com.au/blog/free-activities-to-do-in-port-douglas/#sthash.oXzuLiiv.dpuf